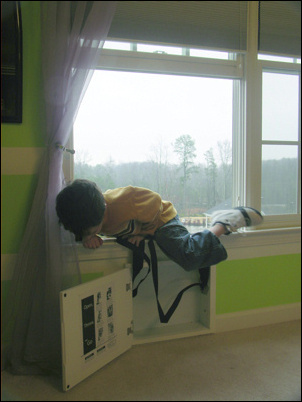 Many home security companies are at a crossroads. Their systems are mature and, without major innovations, it's hard to stand out from the competition. Adding permanent home escape solutions to the mix can give companies a much-needed competitive edge, while providing a more comprehensive home safety solution to their customers. It's a win-win for everyone involved
Atlanta, GA (PRWEB) March 28, 2007
PEARL Protected®, creators of the patented Permanent Escape And Rescue Ladder (PEARL®) for two and three-story homes, today announced PEARL's debut to the home security industry at the 2007 International Security Conference & Expo in Las Vegas (ISC West). To date, most residential security companies fail to provide customers with permanent home escape solutions that can be easily installed and monitored. In an effort to close this gap in home security, several North American home security providers are now considering offering the PEARL permanent escape ladder to their residential customers. ISC West attendees can see a live demo of PEARL at Booth #20128 at the Sands Expo & Convention Center.
Permanently installed into the interior wall space below second and third-story windows, the PEARL permanent escape ladder provides an easy-to-use means of escape that is where you need it, when you need it - like an air bag for the home. In a recent online survey conducted by Zoomerang Research, nearly 65 percent of respondents said they would prefer a permanent escape ladder over a portable emergency ladder. Additionally, approximately 25 percent of respondents said they would ask their home security company to tie PEARL into their existing monitored alarm system.
This presents a unique opportunity to home security companies that are struggling to gain market share in a highly-competitive industry. By offering permanent escape devices like PEARL, pioneering home security partners can enable residents to escape from fire and other home emergencies easily, safely and quickly, while instantly alerting emergency personnel. PEARL Protected is currently in talks with several leading home security companies, including Monitronics, the fourth largest home security services provider in the U.S.
"Many home security companies are at a crossroads. Their systems are mature and, without major innovations, it's hard to stand out from the competition. Adding permanent home escape solutions to the mix can give companies a much-needed competitive edge, while providing a more comprehensive home safety solution to their customers. It's a win-win for everyone involved," said Neal Goffman, VP of Sales, PEARL Protected.
According to the National Fire Protection Association, there were approximately 381,000 home fires in 2005, resulting in 3,030 civilian deaths and more than 13,300 civilian injuries. In the first quarter of 2007, many communities are already reporting above average casualties from house fires. A significant portion of these casualties are the direct result of not being able to escape from upper-story bedrooms.
Since PEARL's debut in October 2005, it has become one of the most recognized home safety products in the marketplace. PEARL has received the Home Safety Council's 2006 Product Innovation Award and has been featured on multiple episodes of ABC's Extreme Makeover: Home Edition. PEARL has been also been showcased on NBC's Today and CBS's The Early Show.
About PEARL Protected
Headquartered in Atlanta, Georgia, PEARL Protected is redefining the standards of home and fire safety through its patented, breakthrough product - PEARL - a revolutionary Permanent Escape And Rescue Ladder that can be quickly and easily deployed in the event of a residential fire or other home emergency. It is currently available through a variety of channels, including the nation's largest homebuilders, building supply dealers, home safety companies and remodelers and maintenance specialists. PEARL can also be ordered directly through the PEARL Protected website (http://www.pearlprotected.com) or via phone at 800.374.5737.
###