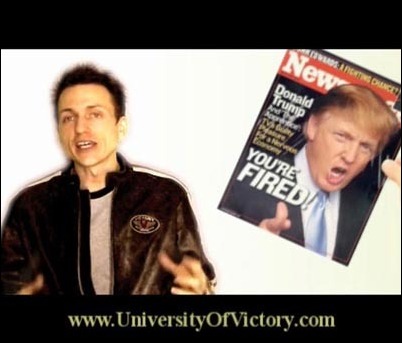 I don't deny this is going to bring in thousands of paying students as well. That's the point
Victoria, BC (PRWEB) March 28, 2007
Victory Darwin, a dropout student of Trump University's Entrepreneurship Mastery Program, founded his namesake University of Victory to fill the need for a program with a practical, how-to approach to build a niche business fast -- even when starting with no capital. He is giving $1 million in scholarships to announce his official launch.
"You don't need $100,000 to create a millionaire-maker business. We will show students how to bootstrap their startup the same way I did my three, multi-million dollar ventures," he said. "Students will make thousands of dollars in sales before spending one penny in expenses."
The 216 scholarships and bursaries marks his first $1 million dollar donation to the world of entrepreneur education even as critics and competitors say the donation is as much a marketing scheme as true philanthropy. Darwin agrees.
"I don't deny this is going to bring in thousands of paying students as well. That's the point," he said. "My specialty is no-cost guerrilla marketing strategies that have big impact, like viral video found on YouTube."
Both University of Victory and Trump University have been receiving a lot of press lately, not all of it positive. A Columbia University news site, NYC24.org, featured the duo in an article titled, "University of Greed VS. Greed U." http://www.nyc24.org/2007/issue2/story4/
Darwin comments, "University journalists are very philosophical about education and think that 'for-profit' schools are part of the evil, capitalist empire. They're probably also angry that their $50,000 education still hasn't landed them a real job. But this article was a valid critique of University of Phoenix, Trump and me."
Far beyond any of his competitors' efforts, Darwin says he doesn't just teach entrepreneurship, he is committed to getting students in business and profitable within 12 weeks.
"We will coach an aspiring entrepreneur with an idea, which may be a hobby or anything he or she is passionate about, and turn that passion into an extremely profitable home-based business or even something much larger," Darwin said. "To quote our university's head success coach, Eric 'ThinkBig' Landry, 'If you want to love what you do, then do what you love'."
The 12-week online program costs $7,000 and has the potential for a value of over $50,000. It includes daily, live, interactive webinars and one-on-one success coaching. Each student also receives a library of self-study books and DVDs, as well as specialized business software. One year of access to the program's online video training for hundreds of business software applications and a $10,000 custom built e-commerce website are also included.
Even experienced entrepreneurs struggle to find good employees. To alleviate this, Darwin has made his own staff of 32 online employees available for use by his students for their ventures.
"There's no hiring, firing or training, and you only pay for the hours used. We have offshore data entry staff and buzz marketers available at less than half the cost of North-American labor," he explained.
Students also are granted access to over nine million business professionals and industry experts via the university's own exclusive connection with the internet's leading social network site for entrepreneurs.
Darwin admires such great entrepreneurs as Richard Branson and Steve Jobs. "At this point in my life, I'm looking to create a legacy for myself. I want to be known as a great social entrepreneur and philanthropist," he said.
He also added that he is happy for anyone to compare him up against the current kings of business education.
"We really have no competition at all. The Trump program does sell for a lot less, only $2,500, but it is nothing more than a business encyclopedia, five CD's and eight teleseminar classes. No disrespect to The Donald intended, after all, it was during my studies there that I came up with the idea for my online entrepreneur university. University of Phoenix on the other hand I'm all too happy to dethrone. For $40,000 and four years of your life you should actually be in business and making big money, not just holding a degree that says you're now officially allowed to try to start one."
Scholarship applications can be found at the university website http://www.UniversityOfVictory.com/scholarship.html Students with grad years of 2005-2007 are eligible. There is also a special category of scholarships and bursaries available for anybody of any age.
For information on University of Victory programs and seminar events, the apprentice competition or distributorships, please visit these links:
http://www.UniversityOfVictory.com/YouTube-scholarship-announcement.html
http://www.UniversityOfVictory.com/EntrepreneurProgram.html
http://www.UniversityOfVictory.com/Distributor-Business-Opportunity-Review.html
ABOUT UNIVERSITY OF VICTORY
University Of Victory provides online education, personal success coaching, and live seminars to help a new entrepreneur profit quickly in his or her chosen venture. To promote our programs we offer an affiliate business opportunity. The first 12 week program begins in April 2007.
###