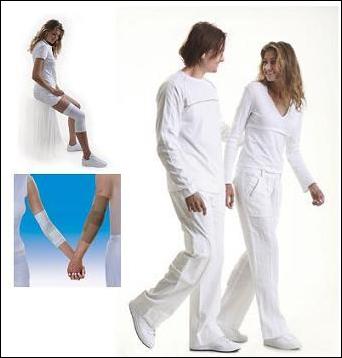 Designed for men and women, Solidea Silver Wave Support features graduated compression and anatomically shaped designs for outmost comfort and therapy
New York, NY (PRWEB) March 29, 2007
Solidea, a global provider of the finest imported Italian support stockings and compression hose, today launched a luxurious collection that will offer active men and women the control and comfort they need. The Silver Wave hosiery line delivers a solution for those suffering from joint and muscle ailments. It offers support and reduces pain in wrists, knees, ankles and elbows.
All Silver Wave styles are designed with soft fibers that absorb static energy and stimulate blood flow. Silver Wave is created with reinforced comfort bands that are made with graduated compression to prevent constriction of circulation. In addition to the support functions, this appealing line also includes a fabric that is developed to eliminate odor and germs. The silver yarns are made up of bacteria fighting properties that give a sweat-free fit.
Various fashionable styles and designs are available:

The Silver Wave Wrist Support style provides functional support to stabilize the wrist and reduce pain caused by overuse. The fabric is made up of silver ions that penetrates support to prevent injury, equalizes temperature and allows the skin to breath.
The Silver Wave Solidea Knee Support style soothes and protects the knee and joints from strains, aches, bruises and arthritis pain. This deluxe knee support is constructed of silver anti-microbial fibers that help relieve pressure on stiff, sore and injured knees. The Knee Support style also aids in blood circulation to help alleviate stiffness. The anatomical shape provides a custom, close to the skin fit. In addition, the revolutionary silicone top band allows it to stay in place while active.
The Silver Wave Ankle Support style is designed to support and strengthen weak joints. The silver ion fabric reduces ankle swelling, soreness and sprains. Compression also increases blood circulation to promote movements and ease.
The Silver Wave Elbow Support style is designed to ease the pain of sprains, tendonitis and arthritis. This style allows elbows to move with ease through the support and protection of the silver anti-microbial fibers.
"Designed for men and women, Solidea Silver Wave Support features graduated compression and anatomically shaped designs for outmost comfort and therapy," stated Solidea creator Enzo Pinelli. "We wanted to create a functional product that also provides non-stop support for those on the go."
The Solidea Silver Wave Support line products range from $15.95 to $25.95 and can be purchased online at http://www.legluxe.com and in specialty stores around the world. For more information or to purchase Solidea products, please visit http://www.solideausa.com by http://www.enzopinelli.com
About Solidea:
Solidea of Italy presents a new luxurious collection of leg wear and shape wear. This collection embraces a palette of gorgeous colors with figure enhancing styles. The Solidea® brand fuses tangible luxuries with hidden perks. The Micro-Massage collection provides elegant shaping as well as toning and smoothing of the skin. The leg wear is designed with energizing support helps people on the go…get going.
# # #