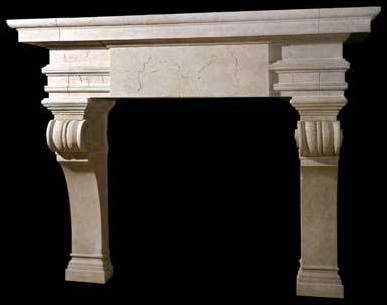 We have a team of craftsmen
Atlanta, GA (PRWEB) March 31, 2007
Stone Age Designs' recreates Italian Renaissance Fireplace mantels in Scagliola Stone. Stone Age Designs is a Division of Francois & Co., and Thierry Francois uses 17th Century Scagliola developed by Italian Monks to recreate custom stone fireplace mantels, and custom stone kitchen hoods offering an alternative to precast stone products that combine Old World Elegance with the modern elegance of today's custom home.
Today, the Scagliola of Stone Age Designs involves a secret formula Francois rediscovered from the process originally developed by the Italian monks who were restoring their dilapidated monastery using custom Scagliola Stone. Francois produces unique fireplace designs that are recreated from old world fireplace mantels making Stone Age Designs' pieces appear to be one-of-a-kind.
A Stone Age Design fireplace mantel is always handmade and unique whether it is reproduction scagliola, or hand-carved limestone. So visit the three-story showroom at the Galleries of Peachtree Hills in Atlanta, or visit the Stone Age Design Showroom online, and when you enter, you'll feel as though you've been transported to the Italian Renaissance.
A Thierry Francois stone fireplace mantle is an art that he learned more than ten years ago when he opened an artisan workshop to create new, original, fireplace designs, fireplace mantles, even a one-of-a-kind fireplace mantels, stone fireplace mantels, custom stone kitchen hoods, and stone accents including archways offering alternatives to Precast stone, and cast stone products to Showcase the Scagliola Stone Collection of Thierry Francois at Stone Age Designs.
Today, the fireplace designs and fireplace mantels of Thierry Francois are known throughout the United States with showrooms in Atlanta, Charlotte, Orlando and now in Los Angeles. You can see Stone Age Designs scagliola stone fireplaces, kitchen hoods, fireplace mantels in stone alternatives to precast stone, and cast stone in the showrooms and in classic homes around the United States.
The Scagliola of Stone Age Designs remains a secret as is the process of mixing together chips of stone, and layering the mixture by hand to achieve a natural stone texture of amazing clarity and depth. The artisans of Stone Age Designs use this clarity to capture the authenticity of the Renaissance Italy for discriminating homeowners seeking fireplace mantels, and stone fireplace mantels like the French Bordeaux or fireplace designs in the Mantels Collection like the Notre Dame.
Today, you are also able to see Scagliola in the Renaissance Cathedrals and Castles of Europe. The craftsmen of the era used Scagliola too as an accent to include stone columns, stone pillars, spiral staircase, Lion heads, and you can see these in the Architectural Accents Collection, including archways, and even walls and statues from Scagliola stone.
A fireplace design, or a fireplace mantel from Stone Age Designs may be a customized design to fit any project a client can imagine. "We have a team of craftsmen," says Francois, "that are so skilled, they are able to create the fireplace mantel that you see in your mind."
"Our pieces are all handmade and unique. We insist that the design of each scagliola piece we create like the Marie Antoinette Kitchen Hoods has to be just right -- every detail to perfection. We use the designs found in estates throughout Europe as our points of reference," says Francois.
You can see Europe in the fireplace stone mantels, in the stone fireplace mantels, and in custom stone kitchen hoods of Stone Age Designs. "We can recreate the fireplace mantels of the Italian Renaissance for far less than the price of an original or a new hand-carved piece in Limestone with quality stone using a centuries-old technique to give the look, and feel of Old World designs." Stone Age Designs offers stone that is an alternative to precast stone and cast stone products.
"Discriminating homeowners seek out Stone Age Designs' original scagliola, and hand-carved limestone for their fine homes." You will also find custom stone fireplace mantels, stone kitchen hoods, and architectural accents from Stone Age Designs in the homes, and offices of successful businesses and of those who know quality, craftsmanship, and want the best," says Thierry Francois, "We provide that for them."
The residents of Atlanta, Charlotte, Orlando and Los Angeles represent only a small portion of discriminating homeowners from across the United States who seek out Stone Age Designs online -- on the Internet -- for their own custom mantles and kitchen hoods, such as their unique copper hood, which uses fragments of copper in the scagliola process to create a beautiful patina copper as well as new designs in surrounds, tubs, and hoods and all from Stone Age Designs.
Call Stone Age Designs today at 1-866-385-9486 or visit our Showrooms across the country, or simply visit us on the Internet http://www.stoneagedesigns.net/ where you can see the Collection online and, learn more about the grandeur of Old World Scagliola.
Recreating European Masterpieces
"We use the designs found in estates throughout Europe as our points of reference."

About Stone Age Designs:
Stone Age Designs is a wholly owned subsidiary of Francois & Co., and since 1997, Stone Age Designs own Scagliola Stone Collection by Thierry Francois has been showcased around the world as the company crafts antique-looking Scagliola Stone Fireplace Mantels, Scagliola Stone Kitchen Hoods, and architectural details. Their secret mixture of crushed marble, limestone, and travertine is becoming the market leader in Scagliola, or "Scaglia" which was originally manufactured by Italian Monks in the 17th Century.
Contact:
Bruno Francois
Stone Age Designs
1990 Defoors Avenue
Atlanta, Georgia 30318
Toll Free 1.866.385.9486
404.350.3333 - Extension 4
F. 404.355.4570
http://www.stoneagedesigns.net/
Kathleen Austin
Arizona High Tech Talent Partnership
480-998-0246
###