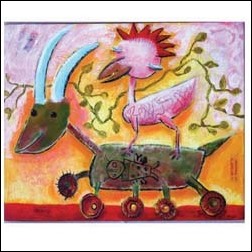 New York, NY (PRWEB) April 4, 2007
New York, NY (PRWeb) April 4, 2007 -- Gramercy 32 Fine Arts is raising its profile and broadening its reach. For the first time, the New York City-based, American-French art gallery will exhibit at the prestigious Intuit show in Chicago, which showcases Folk and Outsider art. The exhibition, a premier cultural event, is the only one of its kind held in the Midwest. It runs April 27-30, 2007 at the Merchandise Mart in Chicago, and is part of Artropolis.
The primary mission at Gramercy 32 Fine Arts is to exhibit talented and established French Outsider artists in the U.S. Gallery owner Brigitte Saint-Ouen travels extensively to cities throughout France and meets with the artists, as well as art associations, museums and galleries, in a quest to find the most compelling works of art and build ties with potential customers around the world. Has this begun to read like a script for to a Mission Impossible film?
The upcoming Intuit show will provide a unique opportunity for Saint-Ouen and her team to mingle with extraordinary artists, invest in the best works, and exhibit a select group of artists with diverse backgrounds and strong visions, including Danielle Lebricquir, Batista Antunes, Philippe Aini, Gyslaine and Sylvain Staelens, Scottie Wilson, Jean Nadeau, August Walla, Emile Ratier, Giovanni Batista Podesta and More.
Outsider art, translated in French, means "Art Brut." The terminology was originally coined by French artist Jean Dubuffet to designate art without precedent or tradition, or art that falls outside the "official rules." Outsider art is rapidly gaining in value, according to Saint-Ouen, who has been dealing in the category since 2004 and worked under the tutelage of the famed Marc Quelquejay since 1994.
Please visit the Gramercy 32 Fine Arts exhibit on the eighth floor of the Merchandise Mart, located in Chicago at the intersection of Kinzie, Wells and Orleans. Gramercy 32 Fine Arts offers a special mix of first-rate artworks in a range of prices, from a small, haunting and vibrant Danielle LeBricquir oil on canvas collage at $400, to a mysterious Scottie Wilson at $ 6.500 , and Emile Ratier at $30.000. We also exhibit August Walla, Jean-Pierre Nadau, and Giovanni Battista Podesta. The appeal is wide, for collectors with different tastes and budgets.
There will be a champagne preview on Thursday, April 26, from 5-8 p.m. Thereafter, exhibit hours are April 27, 11 a.m-7 p.m.; April 28, 11 a.m.-7 p.m.; April 29, 11 a.m.-6 p.m., and April 30, 11 a.m.-4 p.m.
Tickets are $15.
Members of the press should contact: PR(at)32Finearts.com
For additional information, call 212-780-0932,
Or write: 32 Gramercy Park South, 15th Floor, New York, N.Y. 10003
Email: Info(at)32finearts.com
Or visit the Web site at http://www.32Finearts.com
Owner and Director: Brigitte Saint-Ouen
Assistante: Rebecca Solow
###