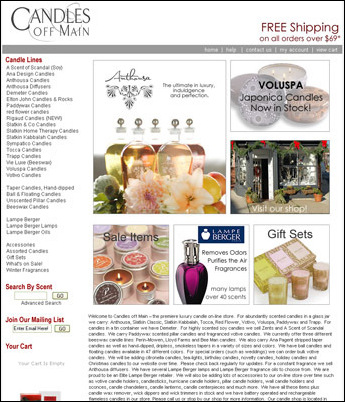 Our goal is to be the #1 E-tailer, and hopefully someday also retailer, for luxury candles.
Annapolis, MD (PRWEB) April 3, 2007
Look on any celebrity's gift list and you will certainly see a luxury candle. Oprah's favorites include luxurious scents from Votivo Candles, Ellen provides her audience with Voluspa Candles, and Elton John has even entered the boutique candle business with Slatkin Candles that benefit his AIDS Foundation. Through this hype, the average consumer has also discovered that they, too, need to be pampered regardless of their celebrity status. The resulting luxury candle craze has led the highly popular candle store, CandlesOffMain.com, to expand its extensive line of indulging candles.
The expansion will include the respected Riguad line of candles made by the legendary French fragrance house, Parfums Rigaud, whose royal origins date back to the early 19th century. D.L. & Co Candles, with their signature scalloped glassware to house the ultra-clean burning European wax will also be added to CandlesOffMain.com offerings. Candle connoisseurs will also be thrilled to know that the popular soy-based Archipelago Botanicals line will be added as well.
The expansion is a natural step for the retailer after the immense success they've had since going online last June. Founder Sue Adams explains, "Our goal is to be the #1 E-tailer, and hopefully someday also retailer, for luxury candles."
The successful luxury fragrance store seems to be more than well on their way towards reaching this goal. As both a Paddywax and Lampe Berger Dealer, they have reached the coveted status of Paddywax Premier and Lampe Berger Elite Retailer. CandlesOffMain.com is also in the Top 20 specialty store retailers nationwide for Tocca, Anthousa, and The Ellen Show favorite--Voluspa. Co-founder Dave Adams contributes the booming success to the special attention they pay their clientele, "We strive to offer the same excellent and personable customer service to our on-line customers as we do our in-store customers."
CandlesOffMain.com began in June 2006 as an online portal for their Maryland retail store. The Adams saw a sales increase of 300% from the new cyber addition to their business. The success is partially attributed to their user-friendly site. For instance, when CandlesOffMain.com customers log in, they can track their order history, order status, and even re-order their favorite products with a click of a button. The site is also searchable by scent and features a wish-list function for easy communication of preferred gifts to others. Sue also highlights their unique shipping techniques, "We pack our orders so beautifully that people feel like they sent themselves a gift!"
For more information on Lampe Berger Oils, Tocca Candles, Votivo Candles, Voluspa Candles, Anthousa Diffusers, or other luxury home fragrances, please visit CandlesOffMain.com.
About CandlesOffMain.com
Co-founded by Sue and David Adams, CandlesOffMain.com is the E-tail version of their retail boutique in historic downtown Annapolis, Maryland. Since launching online in 2006, their endeavor has been recognized and rewarded by premier fragrance companies, including Lampe Berger, Paddywax, Voluspa, Anthousa, and Tocca.
###