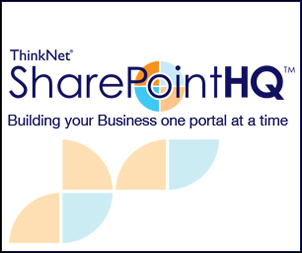 Customers are looking for partner companies that can bridge the gap between their business demands and technology capabilities
Toronto, Ontario, Canada (PRWEB) April 2, 2007
SharePoint HQ, a leading provider of training, professional services, web parts and solutions for Microsoft SharePoint Products and Technologies, today announced it has attained Gold Certified Partner status in the Microsoft Partner Program with competency in Data Management Solutions, recognizing SharePoint HQ's expertise and impact in the technology marketplace. As a Gold Certified Partner, SharePoint HQ has demonstrated expertise with Microsoft technologies and proven ability to meet customers' needs. Microsoft Gold Certified Partners receive a rich set of benefits, including access, training and support, giving them a competitive advantage in the channel.
Headquartered in Toronto, Canada, SharePoint HQ offers a full range of professional services for Microsoft Office SharePoint Server 2007 and Windows SharePoint Services 3.0 including configurations, MOSS 2007 migrations and custom SharePoint solutions. SharePoint HQ's Web parts are currently used in over 60 countries around the world. SharePoint HQ also offers training for end-users, web designers, and IT administrators of all levels of experience from novice to expert.
"We are extremely pleased to have attained Gold Certified Partner status in the Microsoft Partner Program. This allows us to clearly promote our expertise and relationship with Microsoft to our customers," said Hans Leuschner, Vice President, Sales and Marketing. "The benefits provided through our Gold Certified Partner status will allow us to continue to enhance the offerings that we provide for customers."
"Customers are looking for partner companies that can bridge the gap between their business demands and technology capabilities," said Allison Watson, vice president of the Worldwide Partner Sales and Marketing Group at Microsoft Corp. "They need to trust in a company that can act as an expert adviser for their long-term strategic technology plans. Microsoft Gold Certified Partners, which have certified expertise and direct training and support from Microsoft, can build a positive customer experience with our technologies. Today, Microsoft recognizes SharePoint HQ as a new Gold Certified Partner for demonstrating its expertise providing customer satisfaction using Microsoft products and technology."
As one of the requirements for attaining Gold Certified Partner status, SharePoint HQ had to declare a Microsoft Competency. Microsoft Competencies are designed to help differentiate a partner's capabilities with specific Microsoft technologies to customers looking for a particular type of solution. Each competency has a unique set of requirements and benefits, formulated to accurately represent the specific skills and services that partners bring to the technology industry.
The Data Management Solutions Competency is designed for Microsoft Certified and Gold Certified Partners that have proved their competency in deploying data warehousing, online analytical processing, data mining, decision support and in-depth reporting solutions. Specializations within the competency are Business Intelligence and Database Management.
"Microsoft Competencies make it easier for our partners to position their offerings to our mutual customers, better align their business with Microsoft's marketing initiatives and form closer relationships with other industry partners," said Bill Baker, general manager of business intelligence for SQL Server at Microsoft Corp. "Through the Data Management Solutions Competency, we can assist our industry partners' proficiency in developing and deploying business intelligence applications more quickly and easily, and help them align with our goal of making business intelligence solutions more pervasive and accessible to everyone."
The Microsoft Partner Program was launched in October 2003 and represents Microsoft's ongoing commitment to the success of partners worldwide. The program offers a single, integrated partnering framework that recognizes partner expertise, rewards the total impact that partners have in the technology marketplace, and delivers more value to help partners' businesses be successful.
About SharePoint HQ
SharePoint HQ offers training, consulting, web parts and solutions for Microsoft® SharePoint® related product and services. SharePoint HQ's goal is to help companies improve their ROI by employing SharePoint efficiently and effectively within their organization. SharePoint HQ is part of the ThinkNet Inc. group of businesses. Founded in 1990, ThinkNet Inc. has continually provided innovative solutions for businesses in a variety of industries.
Note: SharePoint HQ and the SharePoint HQ logo are registered trademarks of ThinkNet Inc. SharePoint is a registered trademark of Microsoft Corporation.
Contact Information
Website: http://www.SharePointHQ.com/
E-mail: Sales@SharePointHQ.com
703 Evans Avenue, Suite 668
Toronto, Ontario
M9C 5E9
Canada
John A. Rice
Marketing Associate
jrice@thinknet.com