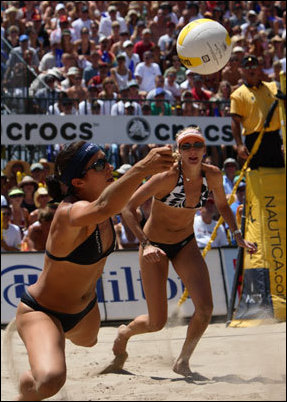 Los Angeles, CA (PRWEB) April 3, 2007
AVP Pro Beach Volleyball Tour is thrilled to announce the re-launch of AVP.com, the most comprehensive volleyball website on the net. With deeper content, live streaming video, video archives, community functionality, robust statistics, message boards, player blogs and fantasy games, AVP.com is the fan's online destination for everything volleyball.
"We are thrilled with the new AVP.com, knowing that Beach Volleyball fans across the world will experience AVP Pro Beach Volleyball like never before," said Leonard Armato, CEO and Commissioner of the AVP. "The new site will offer a combination of deeper content, rich media, community functionality and a more complete statistical package that will clearly enhance the user experience and make AVP.com a daily destination for AVP fans."
The AVP's re-launch of their website comes in conjunction with the start of the 2007 AVP Crocs Tour, an 18-stop professional beach volleyball tour. As the fan base of the AVP and the sport of beach volleyball continues to grow, the new AVP.com will serve as a portal to enhance the fan experience.
Key features of the new AVP.com include:
•Live Streaming Video -- Fans can watch action from every AVP Crocs Tour event live on AVP.com
•One-stop-shop for AVP Ticketing -- Tickets for all events will be available online and can be ordered and printed directly from the website. The main ticketing page includes links to event details for each stop on the AVP Crocs Tour.
•Tour Event Pages -- Every stop on the AVP Crocs Tour has its own area complete with a Gameday Central featuring previews, live scores, stats, recaps, multimedia features, as well as ticketing and venue information.
•Expanded Player Profiles -- Fans can study the statistics of Tour veterans like three-time Olympic Gold medalist Karch Kiraly, Gold medalist Misty May-Treanor, Gold medalists Kerri Walsh, and Olympic Bronze medalist Holly McPeak, in addition to Tour newcomers like 2006 AVP Rookies of the Year April Ross and Logan Tom. Player profiles will feature video clips, pictures, headlines, season/career statistics and biography data.
•New Multimedia Features -- New multimedia features include a main video page updated regularly with new clips and videos and expansive photo galleries.
•Volleyball Nation -- The New AVP.com will help beach volleyball fans connect with friends, start your own leagues, post messages, win prizes on the AVP E-Team, and sign-up for Volleyball Nation newsletters. Additional community features will be added that allow fans to generate their own content and grow networks of like-minded fans and participants.
The AVP Crocs Tour gets under way April 14 and 15 in Miami, Florida, at Bicentennial Park. The AVP Cuervo Gold Crown Miami Open is the first of three Cuervo Gold Crown events. The second will take place in Dallas April 19 - 22 and the final in Huntington Beach May 3 - 6, where the largest check in AVP history, $100,000, will be awarded.
For more information and tickets, log on to the brand new AVP.com today.
###