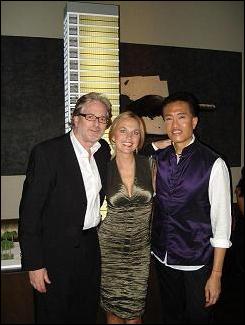 CHI Tower developers originally created this lavish oasis foreseeing that the end-user would make use of this one-of-a-kind trophy property and treat it like a refuge, a personal, private, quiet and luxurious spa to relax, regain health, strength and energy or to be simply undisturbed with friends and family
Miami, Florida (PRWEB) April 3, 2007
Miami is one of the most exhilarating cities in the US. According to the U.S. Census Bureau, Miami is also the thirteenth largest economy in the US, exceeding $72 billion in trade (2006), a $7.2 billion trade surplus (the second-largest in the country), and Miami has surpassed Chicago and positioned itself after Beijing in office market growth. Finally, the Greater Miami area also outperformed traditional top markets New York and London in terms of investment growth, evident in data released by CEO Roundtable.
But something was missing in Miami - up until recently, when plans were revealed and approved by Sunny Isles Beach officials (North Miami Beach) to OK the 42-story development of one of the most luxurious residential towers in the world - CHI.
Jaya Ibrahim, the internationally acclaimed interior designer, who is currently working on CHI Tower has been commissioned to create a contemporary product of extraordinary design in the spirit of balance and harmony: sequence, shape, color and space, intertwined with art, and set amidst the fragrance of the feng shui inspired tropical pool and gardens and sounds of flowing water - the ultimate symbol of prosperity.
The design concept of CHI Tower is a reflection of the developers interpretation in addressing the needs and desires of the most perspicacious and discriminating buyer, who is seeking nothing less but, the very best in life. CHI Tower is breathtakingly spectacular, full of radiant light and positive energy - another architectural masterpiece from the drawing boards of Sieger & Suarez inspired by Developer Team Bruce Goldstein and Kevin Maloney.
"The whole atmosphere and setting will be consistent with how the most discerning echelons live, work, relax and play today: the unique quality of life, comfort and expectations", said Katerina Brosda, Broker Associate of Century 21 Oceanfront Realty and http://www.ChiTowerMiami.com. "CHI Tower developers originally created this lavish oasis foreseeing that the end-user would make use of this one-of-a-kind trophy property and treat it like a refuge, a personal, private, quiet and luxurious spa to relax, regain health, strength and energy or to be simply undisturbed with friends and family", Ms. Brosda continued.
Key elements will guide every aspect in the construction, design and finishes of CHI Tower. Luxury will be expressed by understated elegance, grandness will be expressed by humility of the spirit and, the carefully thought out facets of scale and balance. The end result will be in the freshness that blossoms spontaneously and a thorough absence of pretensions.
CHI Tower has only 38 private residences in the sky. One per floor! 1300 Sq.Ft. of terrace, each with a private mineral-water-pool overlooking the ocean, summer kitchen, Indonesian-style rain shower and several fire places are included in the "way-up-there" acquisition price. The rest is pretty much up to the procurer. Upon agreement, Jaya Ibrahim will create and customized an individual vision for the sky home, and bring it to life with the characteristic flair that has made him one of the most sought-after interior designers in the world. Additional amenities and features proposed include butler service, private chef and chauffeur,
Bentley transportation around town and private jet services (Net Jets).
There could not be a more perfect and picturesque setting for CHI Tower than Sunny Isles Beach. The barrier reef island, only 15 minutes from the exciting and flamboyant South Beach is beautiful because of the ingenious alliance between the place that nature made, and the place that its people have made within it.
"It's more of a feeling than a catalog of sights, sounds, and smells. Some corner of our minds recognizes that a people have evolved a way of life, adapted to difficult circumstances, that has resulted in things like charm, pride, peace, and, more recently, plenty", Ms. Brosda declared. "Sunny Isles Beach is vibrant, chic and a melting pot of a variety of nations! Sunny Isles Beach is indeed Florida's Rivera - the Monte Carlo of North America!"
Two miles down the Avenue from CHI Tower, across the bridge, is Bal Harbour, with its exclusive Shoppes, just like Rodeo Drive in L.A., only the setting is more tropical, very elegant and stylish. And who knows, maybe the developers intentions to market this property as a fourth or fifth home to the super rich will turn into some deciding to make it their main place of residency - the economic outlook for Miami is superb, the city is the gateway to the Americas, the fully equipped business service center and secretary comes with the residency.
CHI Tower is about harnessing energy, and redistributing it appropriately to enhance a harmonious, peaceful, and serene sense of living - and let's not forget to attribute success and abundance.
Interested parties in an acquisition at CHI Tower may contact Katerina Brosda at (305) 788-9393 or visit http://www.ChiTowerMiami.com for more information.
About Katerina Brosda
Katerina Brosda is a preeminent negotiator dominating her industry and field of expertise. As the sole principal at MiamiJustListed.com Ms. Brosda is charged with the day-to-day operations of a boutique real estate services and development firm that caters to the haves and wants of an international upscale clientele in the greater Miami area and in particular on the beaches. Ms. Brosda is recognized by the largest real estate services firm in the world, Century 21, as one of its most successful and outstanding professionals. CENTURY 21® is a registered trademark licensed to Century 21 Real Estate LLC. Equal Housing Opportunity. Each CENTURY 21 Office is Independently Owned and Operated. The Broker is not employed by the Developer but, rather an independent Florida State licensed Broker Associate.
###