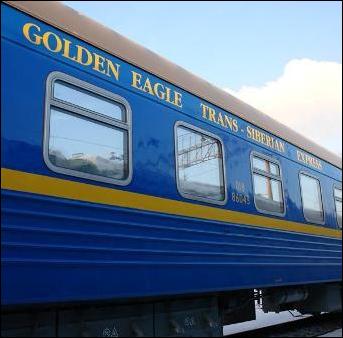 Voyages of a Lifetime by Private Train
(PRWEB) April 3, 2007
Train Chartering is pleased to announce the launch by GW Travel of the $25m Golden Eagle Trans-Siberian Express, a fully en-suite private train, to serve the world's longest railway line and bring new levels of comfort and service to rail travel in Russia. The Golden Eagle Trans-Siberian Express is available for private charter from Train Chartering.
His Royal Highness Prince Michael of Kent GCVO will officially name the Golden Eagle Trans-Siberian Express in the Imperial waiting room at Kazansky Station on Friday 27 April at 11am.
The Golden Eagle Trans-Siberian Express consists of 21 new state-of-the-art carriages, the majority of which were built in collaboration with the Russian company, Zircon Service. The inaugural departure is on 6 May, 2007. The 14-night journey leaves from Moscow and travels more than 6,000 miles (10,000 kms) to its final destination, Vladivostok, on the Sea of Japan.
Tim Littler, President and founder of GW Travel commented: 'After seven years of planning I am delighted that the Golden Eagle project is coming to fruition with the official launch by HRH Prince Michael of Kent in Moscow on April 27th. Russia's first luxury train will confirm our Trans-Siberian tour as the 'Voyage of a Lifetime' and one of the world's great travel experiences.'
Simon Pielow from Train Chartering is enthusiastic about this new addition to the global stable of luxury Trains: ' Tim and GW Travel have invested a great deal in Golden Eagle Trans-Siberian Express; the result is a superlative train on one of the world's prime rail routes. Train Chartering looks forward to its first private charter with The Golden Eagle.'
The Golden Eagle Trans-Siberian Express will accommodate guests in 12 new sleeping cars that are made up of Gold and Silver classes. The six Gold class carriages are among the best available in rail travel today, featuring modern en-suite amenities including power showers and under floor heating. Cabins are equipped with state-of the-art DVD/CD players, LCD TV screens, audio system, individual air conditioning, and wardrobe space. Gold class cabins have a spacious cabin area of 77sq ft (7 m2)
The six Silver carriages also boast modern en-suite facilities but are equipped with smaller shower areas. Silver Class cabins feature similar amenities to those available in Gold class, with a more compact area of 60sq ft (5.5 m2)
For GW Travel Limited reservations call +44 (0)161 928 9410 or visit http://www.gwtravel.co.uk.
Notes to Editors:
For further press information or images, please contact:
Simon Pielow, Train Chartering. +44 (0) 1293 783 347;
Fiona Duthie, Siren PR, One Hammersmith Grove, London, W6 0NB
Tel: +44 (0)20 3008 6290/ Mobile: +44 (0)781 844 0191;
Nichola Absalom, Marketing Manager, GW Travel Limited, Denzell House, Denzell Gardens, Dunham Road, Altrincham, Cheshire, WA14 4QF Tel: +44 (0)161 928 9410 / Mobile: +44 (0)7968 487 818
The Train Chartering Company Ltd - Company Overview:

Train Chartering offers private train charters or private carriage hire around the world. Train Chartering & Private Rail Cars .
Train Chartering can organise the charter of the Golden Eagle and the Siberian Tiger (see below).
GW Travel Limited - Company Overview:
GW Travel is a privately-owned limited company, established in 1989
Specialise in "Voyages of a Lifetime by Private Train", in Russia, the CIS, China, Tibet, India, Africa and Canada.
Operate and manage fully inclusive tours (scheduled departures) and also provide private rail services to third party operators
Principal products are the Trans-Siberian Express and the Silk Road featuring the new Golden Eagle Trans-Siberian Express train
Carried 10,000th passenger in 2006
History of the Trans-Siberian:

The legendary Trans-Siberian is the world's longest single service railway operation stretching 5,800 miles (9,288 kilometres) from Moscow to Vladivostok on the Sea of Japan
Except for a fascinating detour on the Trans-Mongolian, the route of the Trans-Siberian Express all lies within the Russian Federation. (GWT also operates annual departures to the Naadam festival, the highlight of the Mongolian cultural calendar.)
The original Trans-Siberian route, via the East China line, was completed in 1903. The route that is in use today came into service in 1916.
After the Bolshevik revolution in 1917 it became increasingly difficult for foreigners to obtain permits for Siberia, and virtually impossible after the Second World War, because many cities along the route were designated 'closed cities' on account of their strategic, military or manufacturing significance
The railway crosses the Europe / Asia divide at the lowest point in the Urals, near Yekaterinburg
Principal stops en route are: Moscow, Kazan, Yekaterinburg, Novosibirsk, Irkutsk, Lake Baikal, Ulan Ude, UlaanBaatar, Khabarovsk, and Vladivostok.
To this day, the Trans-Siberian Railway is the only year-round land link between European Russia and the Russian Far East, and is undiminished as a vital lifeline, as well as a military and strategic means of supply and communication traversing the largest country on earth.
GW Travel's exisiting train, which is being re-named the Siberian Tiger, will continue to run in conjunction with the Golden Eagle. The Siberian Tiger will continue to feature both Gold and Heritage Class accommodation. Heritage Class Cabins are traditional Russian Railway International First Class cars with Trans-Siberian enhancements. The cabins feature two side by side beds, luggage storage and are centrally air conditioned. Located at each end of the carriage are toilet facilities, and a purpose built shower car is included for the use of our Heritage class guests.
# # #