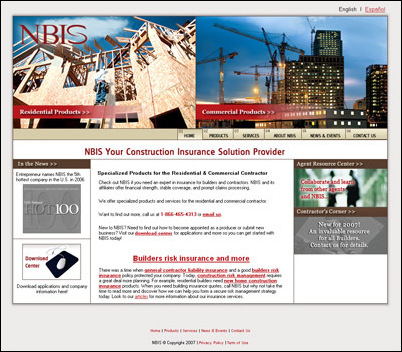 Atlanta, GA (PRWEB) April 2, 2007
Atlanta-based NationsBuilders Insurance Services, inc. (NBIS) announced Thursday the availability to its Wholesale Producer network of two new Insurance product lines, offered with a very lucrative and competitive commission schedule. Effective immediately, NBIS will provide Inland Marine and General Liability for cranes to their Wholesale Producers.
Peter M. Foley, Vice President of NBIS, states, "The importance of our relationship with our Wholesale Producers cannot be understated - they are a vital and valued part of the way we have and always will do business. Over 75% of our residential construction business comes from Wholesalers and that hasn't changed since we started doing business. We are very focused on expanding our network of Wholesale relationships, so much so, that we are now offering extremely generous commissions for our new offerings - Inland Marine and General Liability for cranes. We welcome our current and any new Producers that wish to have access to these and many other excellent, specialized insurance products."
The Inland Marine/Property and General Liability Insurance products are being added to the already comprehensive and impressive listing of NBIS product offerings. In the residential sector, NBIS offers General Liability, Warranty, Inland Marine, Commercial Auto, Wrap Ups, and Pollution. Commercial products include Special Transport, Captive Worker's Compensation, Commercial Auto, and more. Details regarding these and other offerings can be found on the company's website at NBIS.com or by calling NBIS Sales Support at 866-465-4613.
NBIS is the leading expert in insurance for the Construction and Crane/Rigging and Heavy Haul transport industries. With offices in Atlanta, GA, Palm Desert, CA, Baltimore, MD, Scottsdale, AZ, Chicago, IL, and Denver, CO, NBIS is dedicated to finding solutions to the challenges facing the construction sector of the insurance industry. They accomplish this through offering unrivaled, customized insurance coverage, risk mitigation and loss control services.
For more information on the new Inland Marine and General Liability for Cranes or other Insurance offerings, please visit NBIS.com.
About NBIS:
NBIS was named the 5th fasted growing company in the U.S. by Entrepreneur Magazine in 2006. Began in 2001, the growing company continues to further its dominating industry position with new products and scalable solutions.
###