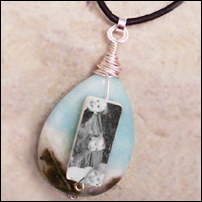 photo jewelry's hip cousin
Essex, VT (PRWEB) April 2, 2007
Mother's day is coming up and as all mommies of young children know, this day promises the tangible luxuries; a few minutes more to sleep, someone else cooking breakfast and maybe even a sweet little surprise.
Lisa Laverty of Elemental Memories knows about being hip, sleep deprived and yes, sweet little surprises. Since April 2006 she has been busy helping husbands, wives, friends and even adult children turn life's fleeting moments into whimsical and funky photo tile jewelry.
Elemental Memories Photo Tile Jewelry, "photo jewelry's hip cousin", creates contemporary, fresh and unique photo jewelry. Your favorite photo is baked onto a piece of hand pressed clay and then finished with sterling silver, leather, or 14K gold chain, hand wire wrapped semi-precious stone beads, and other quality materials creating vivid, unusual and eye catching custom photo jewelry.
Help a mommy you know this mother's day with her "hip factor" by giving her a stunning reminder of the little ones who so often stun her.
To receive your photo tile jewelry in time for Mom's big day, place your order by April 23rd. Rush orders can be placed as late as May 1st.
Visit our shop to order this fabulous Mother's Day gift.
Lisa Laverty has been involved in art and design since a young age. Whether it was ripping up an outdated skirt to make into something new, painting on walls, clothes, canvas or manipulating clay and wire to make jewelry, art has always been a daily aspect of her life.
The designs for her Photo Tile Jewelry are inspired by a love of fashion and style and a deep respect for the power of symbols in our lives. Her goal is to create custom photo jewelry that celebrates the people, animals, and places we cherish with fun, fashion, funkiness and whimsy.
Contact:
Lisa Laverty
Elemental Memories
802-764-5933
http://www.em-jewelry.com
###