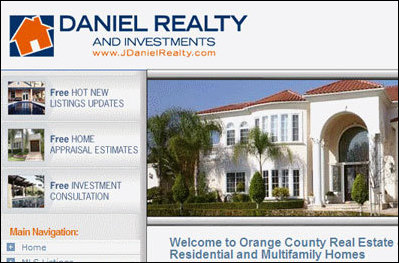 My goal is to provide customers with an exceptional home shopping experience
Ladera Ranch, CA (PRWEB) April 2, 2007
Ladera Ranch, California (PRWeb) April 2, 2007 -- Daniel Realty & Investments has announced its on-line IDX system to display and completely integrate Orange County Multiple Listing Service (MLS) listings on the company website, http://www.jdanielrealty.com. This innovative technology allows potential home buyers to essentially shop on-line. With automatic email announcements, custom client home views, and advanced search controls, clients now have a more powerful way to access and filter the entire MLS listing database by going to the Daniel Realty & Investments website.
For the first time, detailed MLS information is available to homebuyers without the assistance of a real estate professional. Consumers can now begin and control their home search in privacy, better prepared and with more realistic expectations.
When users register on the web site, they are presented with a main navigation and information screen. Here, they are able to create and manage their profiles, search home listings, save their searches and request additional information. As new listings become available, registered users receive emails telling them how many new listings for their named search there are and given a link directly to the search results. The listing data is regularly downloaded from the MLS/IDX provider for viewing on the Daniel Realty & Investments website
"My goal is to provide customers with an exceptional home shopping experience," says John Daniel. "This interactive website will offer customers the tools they need to make home buying more efficient and satisfying." John is a current member of the Real Estate Investment Association of Orange County, the California Association of Realtors, and the National Association of Realtors. He holds the following designations: CRIA (Certified Real Estate Investment Associate) and CCRM (California Certified Residential Manager).
Daniel Realty & Investments, located in Ladera Ranch, Orange County California, is a premier Real Estate Broker that specializes in Residential Real Estate sales in south Orange County and Saddleback Valley as well as Residential Multi Unit properties for investors in southern California.
For more information, contact:
John Daniel
Tel: (949) 481-7358
Toll Free: (866) 698-4730
http://www.jdanielrealty.com
###