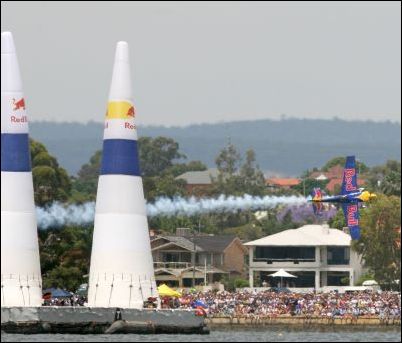 It all comes down to authenticity
Portland, Oregon (PRWEB) April 3, 2007
TAOW Productions today announced they have been selected by Red Bull North America, as the North American lead sponsorship agency for The Red Bull Air Race World Series. In this role, TAOW Productions will be responsible for developing strategic partnerships for this ground-breaking sports event and will take responsibility for coordinating the efforts of all other Red Bull appointed sub-agencies.
TAOW is the first North American partnership marketing agency selected by Red Bull - a particularly noteworthy honor given the energy drink company's stature as the undisputed pioneers and leaders in non-traditional marketing strategy. According to TAOW and Red Bull North America, this selection was due in large part to a synergy between the two agency's marketing philosophy and vision.
"It all comes down to authenticity," said B. Scott Taylor, founder and president of TAOW Productions. "Red Bull doesn't just hold events to provide space for sponsorship logos and taglines. They create true spectacles that are anticipated and enjoyed by those who experience them. Sponsors join because they actually support the events and the participants and want to be a part of the excitement. As a result, they have an opportunity to create true brand loyalty with their customers - one that begins with a mutual experience and continues long after the event is over."
The Red Bull Air Race World Series is the last frontier of motor sports. The world's best fourteen pilots will compete for a championship title racing at speeds of up to 250 miles per hour as they fly by spectators, just meters off the ground. The competition includes twelve events taking place in four continents around the globe. Last year's competition was viewed by more than six million spectators - a size comparable only to Formula One racing globally.
"The Red Bull World Series has got to be the most exciting motor sports competition you could ever hope to experience," said Christiane Bendel at Red Bull. "An event of this magnitude requires unparalleled planning and vision that are equally spectacular. Like Red Bull, TAOW understands what is required to make this an event that will capture the hearts and minds of spectators and sponsors alike."
About TAOW-Productions
TAOW is a modern marketing agency that builds authentic relationships between brands and their core user groups. Through their access and creativity, TAOW provides high-value experiential campaigns that are unlike traditional marketing programs. The agency has created loyalty-building campaigns for such world-renowned companies as, 55DSL, American Express and Pernod Ricard. The company has also taken a leadership role in fostering a variety of core sports activities including managing the Diamondback BMX bicycle team and the Nelscott Reef Tow-In Surf Classic. For more information on TAOW Productions visit http://www.taowproductions.com or call (503) 228-1134.
###