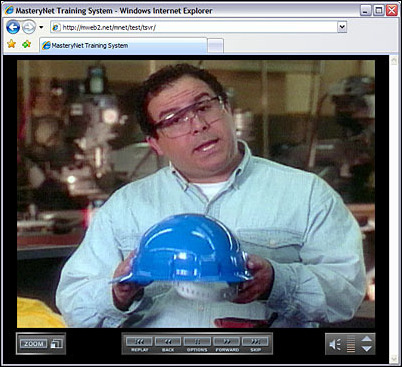 Despite the surprise voiced by some industry experts at the product's low cost, we are confident that our LMS is properly priced because of its low training and support requirements -- factors that are often a detriment with other LMSs.
Novi, Mich. (PRWEB) April 9, 2007
Mastery Technologies, Inc., a leader in workplace, health, safety, and security training technology, today announced the release of its third generation Learning Management System (LMS) as the solution to top concerns training managers recently reported in Training Magazine's 2006 Training Industry Report.
Able to perform what Mastery calls "Dynamic Assignments," this next generation LMS handles many administrative details automatically and empowers the learner to do even more for themselves. Learners no longer need to rely on training managers for details such as training history and past certifications. Administration is simple, efficient, and intuitive to the training administrator. The new LMS continues to feature Mastery's exclusive lesson caching technology which lets workers, on even the busiest Web connections, experience interactive broadcast quality video lessons.
Mastery's LMS approach targets three traditional problem areas with Learning Management Systems. Mastery claims its new system delivers customization, above-and-beyond content integration, and simple ongoing administration. Mastery offers a product "designed to achieve what our customers envisioned, which is to closely manage and control the training process without investing a lot of time and effort," said Bill Marker, president of Mastery Technologies.
Customization
While customization is critical to driving value, it has historically proven to be complex and costly with most LMSs. However, Mastery approaches the customization problem with a very nimble and scalable system architecture that helps the LMS fit all sizes and styles of organizations, avoiding the need for customers adapting their business processes or making many costly customizations. Solid methodology for automating the administration of users, courses, and training assignments makes it simpler for users to implement their own processes and policies. When customizations are needed, the flexible, state-of-the-art system framework allows for their low-cost development.
Content Integration
In approaching content integration, an issue LMS users cited in the Training Magazine study as a significant problem, Mastery provides the solution by going far beyond basic technical requirements. In addition to being fully SCORM compliant, Mastery built a courseware integration framework into the LMS. It has the ability to import courses that have been authored with popular systems like Articulate®, Authorware®, TrainerSoft®, ToolBookTM and others. Even less structured content like PowerPoints, video files, and job procedure documents can be imported as accountable training.
Despite the fact that Mastery publishes hundreds of video-based online courses on its own Mastery AdvantageTM authoring platform, MasteryNetLMS™ was designed and built with an all-inclusive attitude toward all courseware providers and courseware development platforms. "We view the rest of the world of courseware as key to our product and business strategy," said Marker. Mastery's hosted LMS customers can even upload and import their own courses -- created by anyone, licensed from anyone.
Ongoing Administration
Making the system clean, powerful, and nimble is not enough. Mastery also offers complete administrative services as an adjunct to licensing and hosting solutions. Our customers can specify the exact scope and level of service they want Mastery and MasteryNetLMS™ to provide -- up to a complete outsourcing of their online training administration and delivery.
"With 25 years of experience designing and building our LMS and insight from 3,000 customers, we've been doing this longer than anyone else in the business," said Kirk Berry, vice president of sales for Mastery Technologies. "Despite the surprise voiced by some industry experts at the product's low cost, we are confident that our LMS is properly priced because of its low training and support requirements -- factors that are often a detriment with other LMSs."
With a growing trend towards LMS outsourcing, Mastery's practical, efficient LMS is priced at a level that is affordable for even the smallest workplaces.
About Mastery Technologies, Inc.
Mastery Technologies, Inc., located in Novi, Michigan and Plano, Texas, has been a leader in workplace, health, and safety training technology since 1986. Mastery has partnered with leading video content providers to co-produce the largest video-based interactive multimedia training library available today to the workplace skills and compliance marketplace. Mastery AdvantageTM products are sold by Mastery Technologies, its licensed Content Partners and The Mastery Group. The Mastery Group is comprised of independent licensed distributors with in-depth experience in workplace training and technology.
# # #