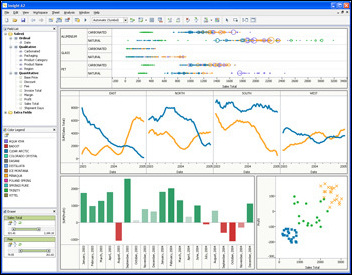 Budapest (PRWEB) April 3, 2007
AnyAspect, provider of state-of-the-art visual business intelligence software, today announced the general availability of business intelligence software Insight A2 v1.5. The cutting-edge visual analysis tool introduces new features and advanced user-interface techniques which allow quicker and easier data exploration and analysis than ever before. Instant access to the relevant information hidden in the corporate databases coupled with interactive and insightful visualizations provides business professionals with a deeper understanding of their products, customer, business processes and great opportunities to improve efficiency in all these areas.
What's behind the numbers?
More and more companies are looking for analytical software that go beyond canned reports, and could help answer the age old question: What's behind the numbers?
"When answering this question companies want two things. Firstly, to reveal hidden trends and indicators in their data and to reveal groups that are similar or exceptional in some way. For example, this could be an underperfoming product in a certain geographic region or an above-the-average sales rep with no customer turnover. Secondly, companies want a solution that can present all these findings in an easy-to-understand visual form which can be interpreted in a snap." -- says Csaba Varkoly, managing director of AnyAspect.
The new analytical features of Insight A2 allow unrestricted drill-down analysis of both standard textual reports and visual pivot tables. These unique visual pivot tables in Insight A2 not only visualize the hidden trends and outliers the user is looking for, but also allow the user to compare these findings across several ad-hoc categories.
Dynamically calculated fields
With the help of dynamically calculated fields, users can create new categorical and numerical fields in Insight A2 without having to change the structure of their source database. In Insight A2, a dynamic field is defined with a formula that may contain any mathematical expression, functions and references to other fields (e.g. IF([Margin] > 12%, "High Margin", "Normal Margin")). Insight A2 has more than 60 built-in statistical, trigonometric, date/time and string manipulation functions. No programming skills are required to define such formula.
Analyzing multiple database tables at once
The new version of Insight A2 is capable of joining an arbitrary number of spreadsheets and database tables directly (e.g. Orders + Clients + Sales Persons). This feature greatly increases the number of questions that may be answered during an analysis session, as all the categorical and numerical data fields in the joined database tables are at once accessible. The availability of this function allows business professionals to analyze the same data from different angles, and choose between the views with one mouse-click.
Tighter integration with Microsoft Office
Insight A2 v1.5 is even more closely integrated with Microsoft Excel and PowerPoint. Both the visualizations and the underlying aggregated and non-aggregated data can now be exported to Microsoft Office applications in various formats. With one mouse-click, users can export several visualizations at once, allowing them to create multi-sheet Excel workbooks and PowerPoint slide shows.
New licensing options with introductory pricing
With the release of Insight A2 v1.5 AnyAspect provides a new, more flexible licensing scheme. The new licensing scheme results in lower costs and greater flexibility when choosing the type of database companies want to analyze. Currently Insight A2 can connect to seven types of database (Microsoft Excel, Microsoft Access, Microsoft SQL Server, Oracle, MySQL, IBM DB2 and Text files). Users may buy separate licenses for each database type.
Prices start from EUR 499 (approximately USD 660) per user. Companies wishing to evaluate Insight A2 can download a 14-day free trial from http://www.anyaspect.hu.
About AnyAspect
AnyAspect - a privately held software company - delivers flexible, easy-to-use visual business intelligence software to companies, research institutes and universities all around the world. The technology behind its flagship product - Insight A2 - allows users to visually analyze vast amounts of data in a matter of minutes, and quickly find trends, outliers and other relationships. For more information, visit http://www.anyaspect.hu.
Press Contact
AnyAspect Kft.
Baross u. 119/A
1083, Budapest
Hungary
Tel: +36 1 215 3099
E-mail: press(at)anyaspect.hu
###