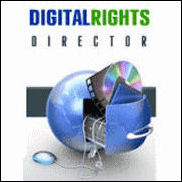 In addition to eliminating the duplication, artwork, shipping and returns associated with CDs, DVDs, VHS or cassettes, Digital Rights Director also provides several built-in self-promotion tools and enables our clients to significantly expand their market share, especially internationally, where customers are less likely to order physical media and returns become much more costly
Boca Raton, FL (PRWEB) April 3, 2007
Tezoro Productions, LLC, the parent company to Live at Broadway Dance Center, has selected Digital Rights Director (DRD) for web based delivery of their dance and fitness training videos.
Digital Rights Director provides an online media distribution platform that enables content owners to sell audio and video from their own online stores and in a format that uses Digital Rights Management (DRM) technology to prevent digital piracy.
In partnership with New York City's Broadway Dance Center, Michèle Assaf, a world renowned dance teacher, as well as director and choreographer, founded Tezoro Productions with BDC owner, Allison Ellner, to provide the finest quality video-based dance education in the industry and in a format that brings the essence and brilliance of a dance class at Broadway Dance Center into the living rooms and studios of dance students worldwide.
After receiving numerous requests from customers, Tezoro decided to offer a download option as a method of delivery. "We are very excited to partner with Digital Rights Director, and to offer our customers a reasonably priced, immediate access download, to top dance teachers and lessons in the industry," said Michele Assaf, President of Tezoro Productions, "Dance has become a universal form of exercise. From privately owned dance studios to most high schools in the USA now having competition dance teams, launching this site allows all those instructors an immediate outlet for new and innovative choreography and training."
Using Digital Rights Director's Online Media Store, Tezoro Productions is able to create "media rules" they can assign to their dance and fitness training videos. The media rules determine exactly how the videos can be used. For example, there could be a media rule that allows only a single play, and another rule for ten plays, and yet another rule for unlimited plays. The rules can disable or limit not only the number of plays, but when the file can be played, whether the file can be copied, backed up, shared, or transferred to an approved device, and much more.
Upon uploading the media to the online store, the file is packaged with DRM, and Tezoro Productions is able to assign any combination of rules with any prices they desire to that media file. In addition, Tezoro Productions can attach an additional file, such as a training manual or presentation that can also be delivered when someone orders the media.
Digital Rights Director provides an ideal system for video downloads since in order to play the file, a user must purchase a license - even if the file was provided by an individual with a valid license. If someone who has not purchased a license or whose license is expired attempts to play the file, they are redirected back to Tezoro Productions' online store where they can purchase that specific training video.
"Broadway Dance Center is the premiere dance and fitness training facility in the country with over 50,000 students attending their classes annually and we are extremely pleased they have chosen our platform to expand the availability of their curricula outside of the physical classroom," said Jonathan Castleman, President of Digital Rights Director.
"In addition to eliminating the duplication, artwork, shipping and returns associated with CDs, DVDs, VHS or cassettes, Digital Rights Director also provides several built-in self-promotion tools and enables our clients to significantly expand their market share, especially internationally, where customers are less likely to order physical media and returns become much more costly," Castleman added.
ABOUT DIGITAL RIGHTS DIRECTOR
Digital Rights Director offers a complete online media distribution platform for small to medium sized businesses that allows content owners to sell digital audio and video from their own ecommerce stores in a protected format to prevent digital piracy. Digital Rights Director also offers a complete line of digital audio and digital video hosting services.
For more information on Digital Rights Director, please contact Jon Castleman at (800) 376-9704 x401 or visit their web site at http://www.digitalrightsdirector.com.
For more information about Tezoro Production's products, including video downloads; please call Ryan Saab, Director of Marketing at (212) 582-1090 or visit their web site at http://www.LiveAtBroadwayDanceCenter.com.
For more information about Broadway Dance Center, call (212) 582-9304 or visit http://www.BroadwayDanceCenter.com.
###