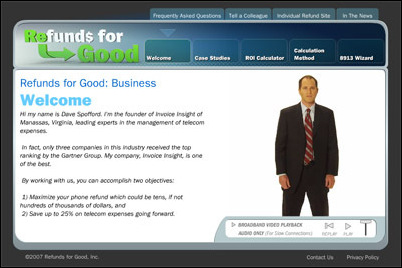 The IRS hasn't made it easy to collect this money. The process is complicated and the 8913 form is not the easiest to complete
Woodbridge, CT (PRWEB) April 3, 2007
The IRS, by court decree, owes American businesses over $10 billion dollars (an equal amount is due to individuals) for their federal telephone excise tax credit. Refunds for Good Inc and Invoice Insight LLC, have created a free, online tool to help organizations, both for-profit and non-profit, get their money back in a timely manner.
Businesses looking for 2006 form 8913 instructions will be pleased to know that the new website at RefundsForGood.org offers a free calculator which automatically fills out form 8913 using the IRS "Estimation Method." It also prints the data onto the form automatically.
For some companies, the IRS Estimation Method may not be sufficient. Refunds for Good has partnered with Invoice Insight, one of the top-ranked telecom expense management companies in the country, to take it from there. Invoice Insight could save a business 20% or more going forward by doing an audit of current telecom expenses. The cost of the service is more than paid for with the savings.
"The IRS hasn't made it easy to collect this money. The process is complicated and the 8913 form is not the easiest to complete," says Refunds for Good co-founder Michael Swartz. "Together, with Invoice Insight, we've created a user-friendly tool and simple 2006 form 8913 instructions, which only take a few minutes to fill out."
Businesses could be owed tens of thousands of dollars for their federal telephone excise tax credit, depending on a number of variables. These include the total monthly telephone expense, the type of service and the amount of wireless phone usage.
In 1898, the federal telephone excise tax was created by the IRS to fund the Spanish-American War. But, in May 2006, the IRS decided to stop collecting the excise tax and to refund monies collected over a 41-month period.
RefundsForGood.org not only helps businesses get their refund money back, they also educate three U.S. non-profits, which are working to address different global issues. It is hoped that companies will return the favor and consider supporting the worthwhile non-profits on the website.
To find form 8913 instructions and tools, or to learn more about redirecting the excise tax credit towards charity, please visit RefundsForGood.org.
About RefundsForGood.org:
The new website was begun to promote the charitable act of redirecting the billions of dollars owed for phone tax refunds to three globally conscious non-profits. Michael Swartz and Jonathan Gorham hope that both businesses and individuals will use their "found" money from this tax return to help the PeaceJam Foundation, Solar Electric Light Fund, or Physicians for Social Responsibility.
###