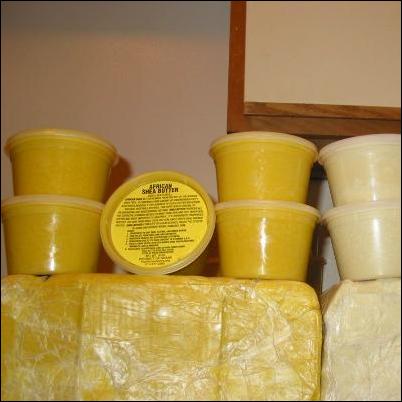 Fort Thomas, KY (PRWEB) April 3, 2007
Get ready for the hot, summer sun with a skin care product born and perfected in The Land of the Sun. The African Store (TAS), currently offers 100% pure and unrefined natural Shea Butter. This is not your everyday, discount store Shea Butter, the kind sold that has been chemically processed and stripped of its natural color, nutrients and remedial properties. Our unrefined and pure Shea Butter is different because it comes straight from Africa ready to use and retains most of its world-famous rejuvenating qualities. It also contains none of those additional artificial ingredients cosmetic companies often add to their shea butter products, ingredients that have been known to cause skin cancer or may lead to serious allergic reactions - the last thing you want to worry about while on a summer vacation.
Shea Butter is definitely important for every skin type, sensitive or non-sensitive -- any time of the year because it has natural active compounds that are not in other skin care products like wrinkle creams, eczema ointments, or even anti-aging creams. When applied, your skin is renewed within seconds. With repeated use, you will ultimately see noticeably healthier and more radiant skin.
Shea Butter from The African Store provides immediate moisturizing and soothing protection for your skin. It also helps protect against Ultraviolet (UV) rays due to a naturally high content of cinnamic acid, calms sunburn, and works to add much needed moisture to parched skin caused by prolonged exposure to the sun. In addition, our Shea Butter works wonderfully on stretch marks by improving the skin's elasticity and leaving your body as soft and silky as whipped butter without feeling oily. Its unique, earthly smell will not attract the bugs of the season to you the way perfumed moisturizers usually do, and Shea Butter easily dissolves into your skin, quickly becoming unnoticeable and leaving nothing behind but the feel of soft.
Shea Butter has been used for centuries in Africa and later in Europe to combat and prevent a multitude of skin conditions. It has been clinically proven to decrease the appearance of lines and wrinkles, which is why it has a fast-growing reputation as an anti-aging compound. Once you have experienced the beauty phenomenon that is pure, organic Shea Butter, nothing else will do. Our unedited customers' testimonials say it all. Unveil your skin's full, beautiful potential with Shea Butter from The African Store.
Shea Butter could also be used for the following:
1. Skin rejuvenation and moisturizing
2. Skin protection from wind, cold, and sun
3. Fast healing of minor wounds and burns
4. Skin cellular activity stimulation
5. Treatment of dry skin, eczema, and minor burns
6. Pain relief from swelling and arthritis
7. Muscle relaxation and stiffness
8. Sunscreen (Shea Butter is very rich in vitamins E & D)
9. Treatment of dark spots, stretch marks, skin discolorations, wrinkles, and blemishes
10. Massages, treatment of diaper rash, and as hair conditioner.
Important links:
2. More About African Shea Butter
3. Dudu-Osun African Black Soap
4. African Black Soap from Ghana
6. Subscribe to The African Store
The African Store also offer Cocoa Butter, Fragrance Body Oils, Dudu-Osun African Black Soap, and Ghana Black Soap at wholesale and retail prices.
To learn more about The African Store and their products, visit their official website at http://www.theafricanstore.org
Contact Information:
The African Store
513-371-3302 or 773-454-5407
# # #