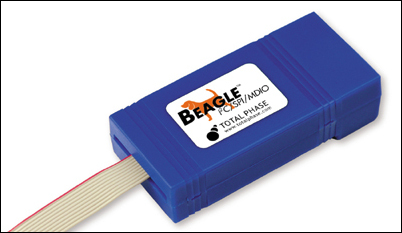 This new ability to monitor MDIO transactions in real-time will be a great asset for network device developers
Sunnyvale, CA (PRWEB) April 3, 2007
Total Phase is pleased to announce the release of an affordable MDIO protocol analyzer. The newly improved Beagle I2C/SPI/MDIO Protocol Analyzer now includes the ability to monitor MDIO bus traffic in real-time up to 2.5 MHz.
Network device developers will appreciate the ability to monitor an MDIO (Management Data Input/Output) bus which is widely used to communicate with modules within networking equipment. Until now, there have been very few affordable tools available to monitor and capture the data on an MDIO bus.
"This new ability to monitor MDIO transactions in real-time will be a great asset for network device developers", says Gopal Santhanam, senior engineer. "We feel that it will definitely fill a void in the current MDIO analyzer market." Currently, the ability to monitor MDIO has only been available in expensive network data analyzers.
Multi-functional Developer Tool
The Beagle I2C/SPI/MDIO Protocol Analyzer is the ideal tool for the lab and on the road. Engineers will only need a single tool because the Beagle analyzer can non-intrusively monitor MDIO (up to 2.5MHz), I2C (up to 4MHz), and SPI (up to 24MHz) in real-time with 20 nanosecond resolution bit-level timing.
Field application engineers will appreciate the Beagle analyzer's small footprint (89mm x 41mm x 22mm), making it perfect for debugging in the field. Since the Beagle analyzer draws power from USB, there are no additional power adapters. Simply plug it into a High-Speed USB 2.0 port and the Beagle analyzer is ready for action.
Excellent Value
The Beagle I2C/SPI/MDIO Protocol Analyzer comes complete with analysis software and royalty-free API for only $300 in single unit quantities. Additional discounts are available for larger volumes. The Beagle analyzer is field-upgradeable, underscoring a commitment by Total Phase to make improvements available to all existing customers. There are no additional yearly support contracts and no software update fees.
Availability
Existing Beagle I2C/SPI Protocol Analyzer customers will be able to take advantage of the new MDIO capturing capabilities at no cost by upgrading to the latest version of the Beagle Data Center data capturing software.
As always, the Beagle Data Center is available as a free download. Orders for the Beagle I2C/SPI/MDIO Protocol Analyzer can be placed online through the Total Phase website or through our network of distributors worldwide.
About Total Phase
Total Phase manufactures powerful and affordable I2C, SPI, MDIO, and USB development tools for the embedded systems engineer. Our entire line of developer tools combine best-of-breed features, Windows and Linux support, royalty-free API, and free software updates, making them perfect additions to any engineer's toolbox.
Please visit us at http://www.totalphase.com
###