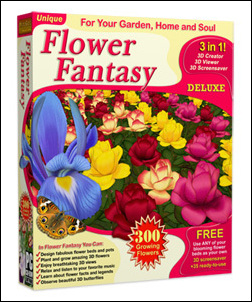 New York, NY (PRWEB) April 4, 2007
In time for Mother's Day, Micro Gold, Inc. announces the release of Flower Fantasy Deluxe, a unique 3D floral software package that is an ideal gift for any woman, kid, gardener, or flower lover. This is the only PC software in the world that plants and grows realistic 3D flowers on the screen, creates "live" flowerbed designs, and even quickly converts all the floral compositions into 3D floral screensavers.
Flower Fantasy Deluxe can be used for garden design and planning, or simply for relaxation and entertainment.
The package features over 300 living plant varieties and offers a rich selection of flowerbeds and pots, decorative materials, scenic 3D backgrounds, 3D butterflies, ready-made flight trajectories for viewing flower beds in 3D, and the ability to add weather effects such as rain or snow.
It includes 35 ready-to-use flower beds and screensaver scenes. Flower enthusiasts can also create an unlimited number of their own designs. Flowerbed or pot designs display the full life-cycle of the plantings with all the seasonal changes, from the moment the first plants appear until the last ones fade, creating live flower pictures. Users can set the flowering time for each type of plant depending on their geographical location. These designs can be reproduced later in a real garden or pot. Advanced settings and tools allow easy editing of all the floral compositions.
Those not interested in gardening can enjoy creating and watching virtual flowerbeds in which fragile orchids bloom in the mountain snows, or fall bulbs open in early spring…With Flower Fantasy, anything is possible in any season.
A user-friendly interface makes the program easy to use, even for novices and kids. Simply plant the seeds of your favorite flowers... And almost like a film on fast-forward, hundreds of plants will grow, bloom and gently sway before your eyes like real flowers, creating fabulous floral compositions!
As a special addition, Flower Fantasy Deluxe also includes a brief encyclopedia of the history, legends, and interesting facts about each plant.
Flower Fantasy Deluxe comprises 3 programs: 3D Creator, 3D Viewer, and 3D Screensaver. In each program, users can move in 3D space as they wish and view the live flower pictures from all sides. In Creator, users can arrange 3D flowerbeds and plant flower seeds. Viewer shows the flowers grow and bloom in 3D. Screensaver can convert any flowerbed into a 3D floral Screensaver scene and play it. When the computer is idle, or any other time you wish, amazing 3D flowers will start to grow and bloom on the screen, turning your PC into a blooming paradise. Screensaver plays any number of floral compositions added to the playlist, one by one, in full-screen or windowed mode. Another key feature of this next-gen Screensaver is that it, unlike other 3D screensavers, allows users to change viewpoint or even move freely in 3D space and view the live floral compositions from the best points.
Flower Fantasy Deluxe is based on a unique 3D technology allowing to simulate flower growth in real time. This task is so complicated that even the most powerful professional 3D software is not able to render the growth of more than 5-10 flowers in real time. With Flower Fantasy any user can enjoy thousands of growing flowers, because it can render over 20 000 000 dynamically tessellated and textured polygons per second. Experts from Intel and NVidia recognized this result the highest in the world among all entertainment programs.
Flower Fantasy Deluxe runs under Windows 98/Me/2000/XP, requires a 3D video card (GeForce or ATI Radeon, Intel 845 and higher).
Price and availability:
Flower Fantasy Deluxe costs $29.95, it can be purchased at http://www.FloFan.com or in retail stores.
For more information and screen shots visit our site or contact Mary Cornell at mary @ flofan.com or 347-404-5144. Evaluation copy is available on request.
About Micro Gold, Inc.
Micro Gold, Inc. is a dynamically developing software publishing company focused on top-quality, innovative, family-oriented products, unique in both form and content.
###