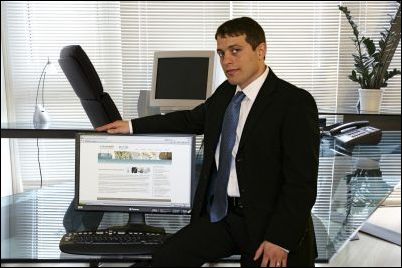 Ithaca, NY (PRWEB) April 5, 2007
A gold men's Rolex (with diamond), which sells for over $12,000 when new, is on sale for only $8,000. A Tiffany white pearl necklace, which sells for $6,500 new, is on sale for only $3,500. Are these sweet deals the byproduct of e-business's low overhead or of counterfeiters selling bogus goods?
For online buyers and sellers of luxury jewelry and watches seeking a marketplace safe from counterfeiting, Colinsworth Authentication has launched colinsworth.com. This is the first service to offer guaranteed independent expert authentication of luxury watches, jewelry and handbags being auctioned on eBay. For the first time, those who participate in the global online luxury good auction marketplace will be assured that the items they're bidding on are real.
"Up until now, bidders on luxury goods online did so with great trepidation and at great risk," said Colin Dreizin, Colinsworth Authentication's founder and CEO. "With the old way buyers were saving 30 to 50 percent on luxury goods while taking a 75 to 90 percent chance of receiving a worthless counterfeit. For consumers, and for luxury good manufacturers who wish to maintain their well deserved reputations for quality, this is clearly a losing situation."
Tiffany and Co. discovered that the 75 percent of jewelry items offered in online auctions using the Tiffany name were counterfeit. Rolex sued two European subsidiaries of eBay over alleged auctions of counterfeit Rolex watches.
"By engaging our expert authenticators before the online sale is completed, buyers are guaranteed of purchasing legitimate luxury items, and sellers are assured that prices for their luxury items aren't driven down by their proximity to fakes," said Dreizin.
Colinsworth Authentication's online system makes it easy for both buyers and sellers to sign up for this new service. Anyone wishing to begin buying or selling watches, jewelry or handbags can simply click on the "Buyers" or "Sellers" buttons at colinsworth.com, which lead them through a simple registration process.
For Buyers
Colinsworth Authentication is an active agent in protecting buyers from counterfeits and fraud. Items offered for auction by Colinsworth Authentication can be bid on with confidence as before the buyers take possession they are physically authenticated by Colinsworth's expert panel of authenticators. For items not offered for sale via Colinsworth, Colinsworth will contact the seller and if the seller is willing to have the item authenticated, will act as a buying agent for the consumer. In either scenario, only upon the determination that the item is legitimate will the sale be completed, with the buyers receiving their items and the sellers receiving their payments.
For Sellers
The best way for sellers to receive maximum value is by engaging Colinsworth Authentication to put the items up for auction for them. This Colinsworth-branded auction signals buyers that the sellers have agreed to have their items authenticated before sales are completed. Furthermore, Colinsworth Authentication protects sellers from chargebacks and fraud. Since Colinsworth receives payment directly from the buyer, it absorbs the chargeback in the event of a refusal to pay.
"By allowing us, a third party authenticator, to confirm the items as being genuine, buyers are assured that the item is authentic," said Dreizin. And, since all buyers have the same guarantee of authenticity, they should bid more often and bid higher, driving prices up."
About Colinsworth Authentication
Colinsworth Authentication was founded in 2006 with the intent of protecting both consumers and sellers of luxury goods from the effects of counterfeiting and fraud. The company is currently privately owned and financed. With offices in California and New York, Colinsworth Authentication manages a prized network of expert appraisers across the country. While Colinsworth Authentication currently offers service only for jewelry, watches and handbags, it is now finalizing partnerships with experts in other merchandise to further serve their customers' needs.
###