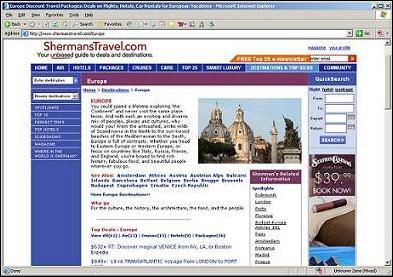 New York, NY (PRWEB) April 3, 2007
With rising airfares and an ever-strong Euro, summer in Europe is becoming increasingly expensive for many Americans. But according to ShermansTravel.com, the web's leading source for editor-screened travel deals and destination advice, it doesn't have to be that way.
To plan a memorable European vacation at a reasonable price, Arabella Bowen, editorial director of ShermansTravel.com, suggest these five great tips for saving money on European travel this summer.
ShermansTravel Tip # 1: Choose an up-and-coming destination
Forget overpriced, crowded summer standbys like the French Riviera or the Amalfi Coast and head instead to emerging hotspots like Berlin or Portugal's Algarve beaches which offer unforgettable experiences, but with significantly less expensive hotels and restaurants.
ShermansTravel Tip # 2: Cruise on a cruise
A terrific way to travel and see more of the continent, cruises will save you a bundle since most are all inclusive which means you'll avoid varying accommodation rates. Plus: Book now for an early-season (May) or late-season (September) cruise to the Mediterranean or Norwegian Fjords to avoid peak season rates.
ShermansTravel Tip #3: Pay one up-front price for air & hotel
With the US dollar and the Euro value constantly changing, a package deal that bundles air and hotel together will protect you from being short-changed if the Euro fluctuates before your trip.
ShermansTravel Tip # 4: Book and travel early
The closer you book to your date of travel, the pricier it'll be. That's why booking in early spring can save travelers hundreds in airfare. Also, consider traveling during non-peak periods such as May or September when you'll beat both the crowds and the high prices.
ShermansTravel Tip # 5: Stay just outside of the city hub
Staying just outside of city center in expensive cities like Paris and London can offer a rich local experience, while helping you maximize your dollar. In London, try hip and historic Clerkenwell. In Paris, consider the hot 11th arrondissement near Place de la Bastille.
To find ShermansTravel.com's guide to the best deals on airfare, hotels, cruises, and travel packages for Europe, including Editor's Picks, visit http://www.shermanstravel.com/Europe or sign up for Sherman's Top 25, a free weekly e-newsletter surveying the week's best 25 deals, at (http://www.shermanstravel.com/top25/).
About ShermansTravel Media
ShermansTravel Media is a leading travel media company that publishes ShermansTravel.com and Sherman's Travel magazine. Founded by James Sherman in 2002 to help travelers makes sense of the overwhelming number of online travel specials, ShermansTravel.com is now the web's most trusted source for editor-screened travel deals and destination advice. Sherman's Top 25, a free weekly e-newsletter published every Wednesday, recently surpassed 4 million subscribers. The company also has syndication partnerships with leading web sites, including MSNBC.com, MSN.com, USAToday.com, and Yahoo!. Building on its trusted online brand, ShermansTravel Media launched Sherman's Travel, the first magazine serving sophisticated, value-conscious travelers, in October 2006.
# # #