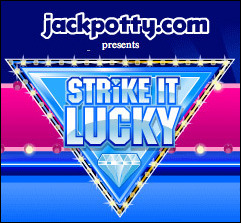 (PRWEB) April 5, 2007
The original game show was extremely popular in the 1980s making its way onto the top 5 most watched shows on UK television in 1987. Each week saw three couples fighting it out for their chance to win money on an enormous set filled with 30 television screens. It became well known for the outlandish and often highly eccentric contestants it featured.
"It's fantastic that such a popular game is being revived, I used to watch it when I was younger." says Natalie Palmer, a regular player at Jackpotjoy, "I remember one particular episode when two contestants were asked to complete the phrase 'The Princess and the…'. One contestant guessed 'porker' and the other 'turnip'. It was highly amusing at the time!" (The answer's 'Pea' by the way!)
The contestants were no match for the wacky British comedian Michael Barrymore, however, who presented the show for its full run of an incredible nine series. The host recently hit a hot spot himself during a house party in 2001; although Barrymore still remains as popular as the show itself in the British public's eye, and was given a unanimous applause during his participation in 'Celebrity Big Brother' recently.
"We've had a massive response to our 'Deal or No Deal' game; a recent jackpot of over £500,000 was won by one of our new players" says Jackpotty.com's promotions manager, Susan Stowe, "I just know that someone is going to 'Strike it Lucky' on our latest fruit machine game."
The 'Strike it Lucky' fruit machine can be played now, from just 1p, at Jackpotty.com
###