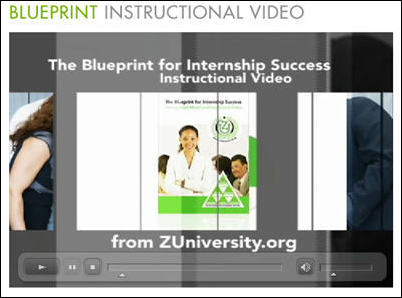 It's so much more rewarding to manage and mentor students and much more profitable to dramatically increase productivity and to develop and 'test drive' potential employees.
Newton, PA (PRWEB) April 4, 2007
Z University (ZU) has fulfilled the long-overdue need for internships to enter the modern world with its debut of The Blueprint for Internship Success -- a comprehensive instructional DVD that shows employers how to develop high performance internship programs, and teaches managers the best ways to supervise students, fully utilize their talents, and develop their workplace skills.
Released just in time for the summer internship season, the Blueprint premieres a meticulously-crafted program management methodology, based on ZU's 20-plus years of first-hand experience with 'live' internship programs and hundreds of hours of research and development. It's the perfect companion to ZU's Intern Toolkit, a comprehensive system of materials that easily and effectively aids employers in developing and managing internships.
The 45-minute DVD is hosted by Matthew Zinman, founder of Z University and The Internship Institute, who employs a friendly, conversational style. The preview is available at http://www.zuniversity.org/blueprintvideotrailer.asp and more information is available at http://www.zuniversity.org/blueprint.asp.
The Blueprint video uses a pyramid graphic to illustrate the nine critical 'building blocks' of a world-class internship program: at its foundation are the core best practices involving commitment, ownership, planning, recruiting, and expectation. Above them are training, delegation, productivity, and at top, improvement. Each of the nine building blocks comprises four related attributes. Once all 36 elements are revealed and combined, the pyramid equips employers with every advantage to achieve program excellence.
In addition to discussing the Blueprint model, Zinman presents a special segment about intern productivity, offering a wide-range of 'real work' project ideas based on five core skills involving research, writing, planning, telephone and computer work that interns can perform for most any business. Zinman also dispels "The Five Myths of Internships," the first being that managers lack the time for interns. This misconception is refuted by "The Time Paradigm," which demonstrates how managers can trade their time to have interns do more.
This is supported by a recent five-year study by The Internship Institute on student productivity, which proves that a single supervisor can gain up to 225 full work days of productivity in a calendar year simply by managing interns properly.
"Just about any business professional can think of five or more hours a week that they spend on tasks that students are capable of doing instead," explains Zinman. "It's so much more rewarding to manage and mentor students and much more profitable to dramatically increase productivity and to develop and 'test drive' potential employees."
Included among the many details of best practices are those that focus on preparations and recruiting. "School cycles are rarely in sync with employer financial and planning cycles," Zinman explains in the video. He offers tips for when an employer should begin planning ahead, and how to establish relationships with universities.
The video also explores interviewing techniques, the use of self-assessments, managing resources, and providing students with needed guidance and structure. Together, these practical tips make the Blueprint instructional DVD an invaluable tool for companies that wish to start a new intern program, and for those with programs who are committed to improvement.
"With all due respect to the relatively few employers that have first-rate internship programs, most either don't know what they're doing, don't have the tools to do it right or, in most cases, don't realize what they're missing," Zinman says. "We aim to remove those barriers and help employers convert internship benefits into business gains. Modernizing internship programs helps companies increase productivity, reduce 'brain drain,' improve workforce readiness, and 'home grow' future employees."
The video applies the same methodology ZU developed for its highly acclaimed Intern Toolkit, a complete system of program management and student training materials to unburden employers in every way for them to create the best possible internship programs. The Toolkit provides users with step-by-step guidance to apply a wealth of practical insights, adaptable templates and best practices to effectively recruit, train and manage student interns. It is available for purchase individually as well as in conjunction with the Blueprint video via http://www.InternToolkit.com.
ABOUT Z UNIVERSITY
Z University (ZU) is making internship programs a powerful remedy to close the gap between classroom learning and workplace competency. ZUÂ's primary focus is to innovate solutions that, in effect, remove the barriers for students to gain valuable experience and for employers to gain valuable productivity and better future employees.
Z University's "Blueprint for Internship Success" illustrates an advanced best practices program management model, which is fully revealed in an instructional video (DVD) that bears its name. The Blueprint video complements ZU's highly acclaimed Intern Toolkit to provide employers with a complete system to create, manage, and improve internship programs and related forms of work-based learning. Z University continues to improve and develop innovative products and resources to fulfill its mission.
MEDIA CONTACT
Matthew Zinman, President and Founder
email: NewsInquiry(at)ZUniversity.org, or call 1-877-ZU2GROW (1-877-982-4769)
This press release was distributed through eMediawire by Human Resources Marketer (HR Marketer: http://www.HRmarketer.com) on behalf of the company listed above.
###