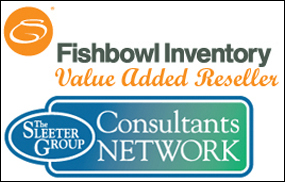 Fishbowl is a great fit for the small-to-medium sized company whose inventory tracking needs extend beyond the built-in capabilities of QuickBooks
Orem, UT (PRWEB) April 4, 2007
Fishbowl Inventory and The Sleeter Group jointly announced today their alliance to increase Fishbowl's penetration into the small-to-medium business accounting market, where inventory solutions are in great demand. The agreement centralizes all Fishbowl Value Added Resellers (formerly Professional Advisors) into The Sleeter Group Consultant's Network (SGCN). The Sleeter Group, a nationwide group of over 500 accounting firms and consultants with expertise in QuickBooks financial software, will handle sales, installation, QuickBooks integration, and business process consulting for Fishbowl clients.
"Fishbowl is a great fit for the small-to-medium sized company whose inventory tracking needs extend beyond the built-in capabilities of QuickBooks," said Doug Sleeter, founder of The Sleeter Group. Fishbowl Inventory is an add-on software product for QuickBooks that is designed to meet the needs of a broad group of businesses, from distributors with multi-location warehouses, to manufacturers who build assemblies and require detailed, serialized tracking of their inventories. "Our consultants in the field see a huge demand for the Fishbowl product because it's a natural fit for so many QuickBooks clients. The QuickBooks integration is among the best I've seen of any QuickBooks add-on products," Sleeter added.
Dave Williams, CEO of Fishbowl Inventory, explained, "We're extremely optimistic about this partnership. We're broadening our bandwidth to get to customers who don't yet know how much they can benefit from implementing our product. Companies can grow with QuickBooks when Fishbowl is added, without having to turn to an expensive high end solution. This alliance will empower Sleeter Group members with an amazingly robust inventory solution to offer to their mid-market clients."
About Fishbowl Inventory: ExpressTech Int'l. develops and publishes Fishbowl Inventory--one of the first software applications in the world to integrate with QuickBooks. As an industrial-strength inventory control system for QuickBooks users, Fishbowl Inventory tracks inventory in real time, across multiple storage locations, multiple retail outlets, manufacturing facilities, or warehouses.
ExpressTech, founded in 2001, is built upon 20 years of expertise in inventory control and manufacturing systems, and Fishbowl Inventory is the result. It brings industrial-strength inventory control and manufacturing capabilities to the small-to-medium business.
About The Sleeter Group: The Sleeter Group provides QuickBooks training resources to QuickBooks users and consultants. Resources include college textbooks, consultants' reference books, a QuickBooks Consultant Certification program, a QuickBooks Consultant Membership network, and an annual Accounting Software Consulting conference.
QuickBooks is a registered trademark of Intuit.
###