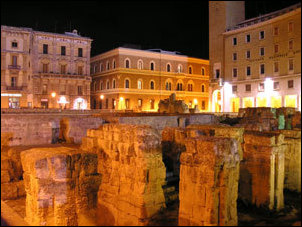 I fell in love with Apulia when I first visited. I'm sure our clients will too, especially when paired with the exquisite sounds of the Miami International Piano Festival.
Chicago, IL (PRWEB) April 5, 2007
Select Italy, the ultimate source for travel to Italy, introduces a variety of vacation packages in conjunction with a piano event unlike any other. For 15 days this summer, the Miami International Piano Festival will fill the streets of the southern Italian town of Lecce with the very best in piano music, musical conversation and Italian culture. The festival lasts from June 20 to July 5, 2007. Festival organizers have assembled an exciting nightly concert schedule, including performances from highly regarded international artists. In addition, those who attend the festival will be treated to intriguing musical lectures and guided tours of the surrounding area. Whether a student, performer or lover of classical music, this festival offers a unique and memorable experience.
Established in 1998, the Miami International Piano Festival organization has always championed young pianists, discovering and nurturing their talents. The festival is recognized as one of the most exciting recital series in the world today. Both emerging and established artists will participate in Miami International Piano Festival in Lecce, each demonstrating important interpretive ideas yet to be expressed in both mainstream and rare repertoire. Fifteen talented artists are scheduled to appear, including Grigori Sokolov from Russia, Italian pianist Francesco Libetta and 13-year-old prodigy Conrad Tao from the USA.
Land packages begin at a cost of $999.00 US Dollars per person based on double occupancy, including accommodation and daily activities. Travelers can choose between two excellent hotels. The first option is the 4-star Grand Hotel Tiziano, conveniently located just 500 yards from the old town center. This hotel acts as the base for a number of concerts, master classes and lectures. Visitors who wish to bask in deluxe surroundings can upgrade to the supremely elegant Patria Palace Hotel, which offers 5-star service and accommodations. Between concerts, tour participants can enjoy guided tours and activities that highlight the history of Lecce and its culture. Information about package options can be found on Select Italy's website: http://www.selectitaly.com/mpf.
Lecce, the home base for the festival, is one of the most fascinating cities in the southern Italian region of Apulia. Within this baroque jewel, many sites indicate the diversity of its history -- from a Roman amphitheater that is only one-quarter excavated, to the intricate façade of the Basilica di Santa Croce, one of the city's best representations of the local Barocco Leccese style. Nestled in the Salento wine region, Lecce is also home to a rustic culinary tradition based on fresh local ingredients, especially its delicious olive oil.
For the last five years, Apulia has been gaining wider exposure and recognition for its history, cuisine and culture. Select Italy always strives to be at the forefront of Italian travel trends and is delighted to help clients experience the pleasures of this relatively undiscovered region. Select Italy's President Andrea Sertoli says, "I fell in love with Apulia when I first visited. I'm sure our clients will too, especially when paired with the exquisite sounds of the Miami International Piano Festival."
Select Italy is proud to be the official appointed travel agency for the Miami International Piano Festival in Lecce and to offer such a wide variety of travel packages for this unique event. For more information or story ideas, please contact Maria Meyer by email or by phone at 800-877-1755.
ABOUT SELECT ITALY:
Select Italy is an award-winning travel agency and tour operator founded in 1997 specializing exclusively in travel to Italy. Select Italy offers a wide array of products and services, which include customized itineraries, vacation packages, museum reservations, tickets to music & cultural events, private guided services, transportation and accommodations. All of these are available for purchase online at http://www.selectitaly.com. Select Italy has been on the Travel +Leisure "A-list of Super Agents" for 5 years. In 2005, its website won an Ultra Web Award. In 2005 and 2006, Select Italy was nominated as a Webby Award finalist for Best Tourism Website. Company President Andrea Sertoli says, "Italy remains an unmatched destination with the warmth of its people, its heritage, its sheer physical beauty. With our specialized knowledge and inside information behind every travel plan we make, our clients enjoy everything Italy has to offer." More information can be accessed through http://selectitaly.com/pressroom.php or by calling (800) 877-1755.
###