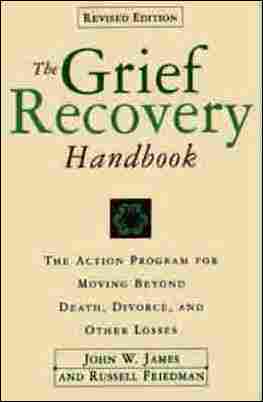 For 30 years we've been telling anyone who will listen that most grieving people do not need to be treated with psychotropic drugs
Sherman Oaks, CA (PRWEB) April 4, 2007
A newly released grief related study reveals that many people grieving a death or divorce are wrongly diagnosed as depressed.
"For 30 years we've been telling anyone who will listen that most grieving people do not need to be treated with psychotropic drugs," said Russell Friedman, Executive Director of the Grief Recovery Institute. On April 3, the Washington Post published an article related to misdiagnosis of grievers titled Criteria for Depression Are too Broad, Researchers Say.
The article, written by Shankar Vedantam, begins with this eye-opening statement: "Up to 25 percent of people whom psychiatrists would diagnose as depressed may only be reacting normally to stressful events such as divorce or losing a job, according to a new analysis that reexamined how the standard diagnostic criteria are used."
"We have always believed that misdiagnosis was harming grieving people," said Friedman.
The following symptoms are common to grieving people and to people suffering from clinical depression:
· inability to concentrate
· upheaval of sleeping patterns
· upheaval of eating patterns
· roller coaster of emotions.
· lack of energy
When a medical or psychological professional hears a griever report those symptoms in reaction to the death of someone important to them, or in reaction to a divorce, they reflexively diagnose the griever as depressed, because those reactions match up to several of the primary symptoms of depression.
Is a griever clinically depressed? For the most part, the answer is NO, especially if they weren't clinically depressed before the death. The leap to clinically depressed, when based on normal reactions to a death or to a divorce, is the result of misinterpretation and misdiagnoses of symptoms. It is very dangerous. In part, the danger stems from the fact that most clinical diagnoses of depression are accompanied by prescriptions for mind-affecting drugs which cover-up the natural and necessary responses to grief.
Misplaced Inhibitions
The confusion about the meaning of depression as it relates to grieving people is an obvious byproduct of the misdiagnosis. The incorrectly applied use of the word depression allows it take a place in the emotional lexicon as if it's always a clinical event requiring psychotropic medication. Is it any wonder we have a nation of grievers on Prozac and a host of other SSRI class drugs? [SSRI = Selective Serotonin Re-uptake Inhibitors]
The key word in that drug class is "inhibitor." The last thing we want to do is inhibit a griever's ability to feel and communicate their reaction to the loss that affects them. It's precisely in the time following the loss that grievers have keen access to memories of the relationship that will help them discover and complete unfinished emotional communications that the death or the divorce robbed them of making. The drugs, while possibly inhibiting pain and discomfort, also inhibit the griever's ability to access memories and emotions about events in the relationship that need addressing.
The Grief Recovery Institute has been in the trenches with grieving people for 30 years. Institute founder, John W. James reports, "Frankly, it has become more and more difficult for us to help grievers with the principles and actions of Grief Recovery, since so many of them are put on psychotropic medications almost before the funeral of their loved one or the ink is dry on their divorce papers. Being on those drugs, not only inhibits the griever's ability to do the essential work of Grief Recovery, it also keeps them from finding any effective methods of dealing with the normal and natural reaction to the death or divorce that has turned their world upside down."
The Grief Recovery Institute acknowledges and thanks the researchers named in Shankar Vedantam's story: Michael B. First - Columbia University; Jerome Wakefield - New York University; Allan Horwitz - Rutgers University; as well as all those who assisted them.
For more information on The Grief Recovery Institute and to see a complete interview on this topic, visit http://www.grief.net.
John W. James, Founder, Russell Friedman, Executive Director - The Grief Recovery Institute - [ http://www.grief.net - co-authors of The Grief Recovery Handbook - The Action Program for Moving Beyond Death, Divorce, and Other Losses [HarperCollins, 1998]; When Children Grieve - For Adults to Help Children Deal with Death, Divorce, Pet Loss, Moving, and Other Losses [HarperCollins, 2001]; Moving On - Dump Your Relationship Baggage and Make Room for the Love of Your Life [M. Evans, 2006].
###