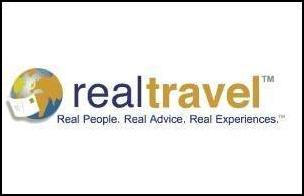 We are extremely pleased to have them as an anchor of our new Travel & Leisure federation.
Los Altos, CA, and Sausalito, CA (PRWEB) April 4, 2007 -–
RealTravel, Inc. (http://realtravel.com), a travel blogging and information site that enables people to plan trips with insights from other travelers, has been selected by Federated Media Publishing, Inc. (http://www.federatedmedia.net) to anchor its new Travel & Leisure federation.
Advice from other travelers has proven to be a valuable new source of information for people in the process of planning a trip. According to travel research company PhoCusWright, 65% of people trust consumer opinions posted online over television, newspapers and magazines.
Consumers demand for this trusted travel information has fueled RealTravel's rapid growth since its launch a little over a year ago. Half a million people now visit RealTravel each month to make use of the travel blogs, travel reviews and guides -- selected for quality by an editorial team -- to help plan their next trip.
"We're very excited to be working with John and the whole Federated team," says Ken Leeder, CEO of RealTravel. "FM's deep understanding of conversational media allows us to provide marketers with solutions that enable them to connect with people who are sharing travel information and planning trips."
FM represents some of the largest conversational media sites on the web today, including Digg, BoingBoing, Dooce, and TechCrunch. Other sites in the new Travel & Leisure federation include Metroblogging, 101 Cookbooks and tastingmenu. Each site in the FM fold is selected based on the quality of its content and the engagement of its community.
"Internet users increasingly look to one another for advice when making important decisions in their lives, such as where to travel. These conversations are happening in trusted communities such as RealTravel, which is on the vanguard of this trend, making the site an ideal addition to our hand-picked federation," says John Battelle, founder and Chair of Federated Media. "We are extremely pleased to have them as an anchor of our new Travel & Leisure federation."
More information about RealTravel's offerings can be found on RealTravel's page on the FM website at http://www.federatedmedia.net/authors/realtravel.
About RealTravel
Recently named "One of the Twelve Essential Travel Websites" and "Best of the Web" by Forbes and BusinessWeek Online, RealTravel is a travel blogging and information site that helps people plan trips through the insights and recommendations of other travelers, while also enabling marketers to appeal to people who are in the process of researching and planning a trip. Visit us at http://realtravel.com.
About Federated Media Publishing
At FM, we believe great voices attract great audiences. We're in the business of supporting those voices by connecting them to great marketers, as well as providing a suite of services that let authors focus on what they do best: make compelling media. In so doing, we are creating federations of respected voices that prosper on their own terms. Current federations include Sports, Technology, Automotive, Business & Marketing, Media & Entertainment, Momentum, Travel & Leisure, Graphic Arts and Parenting.
Media Contacts:
Christina Brzica
RealTravel.com
christina @ realtravel.com
650-694-4970
Pamela Parker
FM Publishing
pamela @ federatedmedia.net
415-332-6955 ext. 134
###