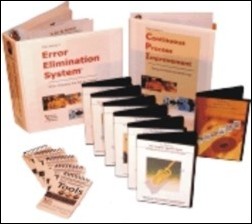 Making these tools and strategies directly available to professionals who are committed to organizational improvement
Chester, VT (PRWEB) April 5, 2007
A self-study System has just been released that will provide anyone involved in Six Sigma with an in-depth understanding of the human side of the process improvement equation. Known as the Error Elimination System™, it offers in-depth insight as well as specific strategies, tools and sample project plans for minimizing human error when implementing Six Sigma processes.
"It's all about reducing human error. And it has some knock-your-socks-off products for helping you to do so," states C.S. Clarke, PhD. "It is an excellent example of what training materials should be."
Following years of testing and refinement, key strategies and tools have been assembled into this coherent System that will benefit anyone wanting to understand human performance. "Whether you're new in the game, or a seasoned professional, the materials provided within this System will unravel the mystery of the human side of the equation, and give you specific nuts-and-bolts tools for you to use," explains Tim Autrey, Founder/CEO of the Practicing Perfection Institute, Inc. (PPI).
The Error Elimination System™ pulls it all together. "These concepts of human performance and error elimination have helped us tremendously in dealing with, and in some cases eliminating, the variation that comes with having people performing the major roles in our processes," states Hank Berry, Six Sigma Master Black Belt.
The Error Elimination System™ has been made available by PPI specifically to put tools into the hands of Six Sigma professionals that will reduce the incidence of human error. "Making these tools and strategies directly available to professionals who are committed to organizational improvement," offers Tim Autrey, "directly supports our vision -- 'Error-free, world-wide -- one life at a time'. We're incredibly excited about the potential of getting these strategies and tools into the hands of such professionals."
The Error Elimination System™ is available directly through the Practicing Perfection Institute, Inc. For more information, click here, or contact PPI at [PracticingPerfectionInstitute.com/ PHONE 877-832-9492 (802-875-6978).
About PPI:
The Practicing Perfection Institute, Inc. was founded in 2005 with a profound vision: Error-free, world-wide -- one life at a time. It is pursuing this vision by providing education, resources, and consulting services relative to the reduction and elimination of human error. With a mission to save lives, keep people from getting hurt, prevent catastrophe, and enhance organizational efficiency, the Institute is rapidly becoming a central community for error reduction and performance improvement professionals worldwide.
###