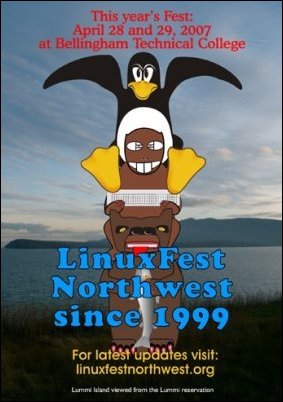 Bellingham, WA (PRWEB) April 6, 2007
The eighth annual Linuxfest Northwest takes place from 10:00 a.m. to 5:00 p.m., April 28 and 29, 2007 at Bellingham Technical College in Bellingham, WA. Exhibits, presentations, and parking are free. All ages are welcome.
The Fest is an informative, low-key way for people to explore Linux and other open source products. LFNW features internationally recognized speakers from leading companies and well-known open source projects, as well as exhibits and demonstrations for a wide range of interests and technical abilities.
Previous Fests have included presentations by leading open source experts such as Jon "maddog" Hall (international Linux evangelist), Rasmus Lerdorf (of PHP fame), and Brian "Krow" Aker (MySQL, Slashdot). This year's attractions include:
One Laptop Per Child - exciting technology that could change the world
Oracle, Google
Crispin Cowan of Novell
Second Life
Free Software Foundation
Hands-on test drives
Dee-Ann LeBlanc (author and open source expert)
Zonker Brockmeier (Slashdot, Linux.com)
RoboExpo - turning serious technology learning into fun
Again this year, Linuxfest Northwest will feature the LFNW World Famous Raffle of valuable computer products, services, books, vendorwear, and assorted keen stuff.. Proceeds from the raffle help to pay Fest expenses.
On Saturday night Linux Festivities will continue in downtown Bellingham. Events include April Brews Day, a benefit for the Max Higbee Foundation, which provides community-based recreation programs for adults with developmental disabilities. Linuxfest Northwest is proud to be a sponsor. Several Linuxfest exhibitors will be giving away tickets.
Open source is a collaborative approach for developing high-quality software. Open source software solutions are available for most computing needs at little or no cost. They are comparable to and compatible with most common computer applications. Two of the best known open source projects are the Linux operating system and the Apache web server. Other examples include:

Office applications - word-processing, spreadsheets and presentations
Email, calendar, contacts and other personal information management software
Accounting, bookkeeping, personal finances
Games
Educational software
Desktop publishing
Database management
Collaboration; document sharing
Web browsers
Image editors
3D graphics
Digital camera imaging and image managers
Programming tools, tutorials and courses
For more information, please visit http://linuxfestnorthwest.org
###