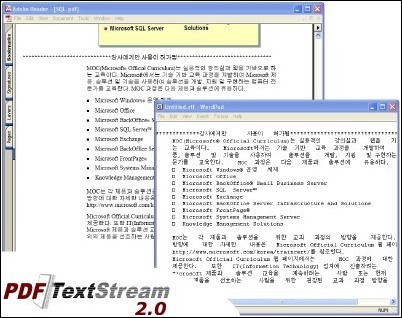 We're glad to be able to make that growing requirement a little easier to fulfill today.
Holyoke, MA (PRWEB) April 5, 2007
Snowtide Informatics Systems, Inc., the leading provider of enterprise-class PDF content extraction solutions, today announced the release of PDFTextStream v2.1 for Java, .NET, and Python. v2.1 adds form update functionality to the PDF text and metadata extraction library, a key requirement of many document-centric web applications and software package vendors. Such functionality is necessary for generating customized interactive PDF forms for customers, business partners, government compliance, and data archival requirements.
"We have consistently heard from our customers that they wanted to see us add form update capability. It's a little out-of-the-box for us, since PDFTextStream has always been purely an extraction library, but the need for a combined solution was simply too great to ignore," said Chas Emerick, CEO and Founder of Snowtide Informatics Systems, Inc.
"So many document workflows are moving to PDF, and getting custom form-generation tools into enterprise applications and shrinkwrapped solutions is becoming more and more important," he added. "We're glad to be able to make that growing requirement a little easier to fulfill today."
Enterprise-Class PDF Solutions, Continually Redefined
v2.1 expands PDFTextStream's lead in providing the highest level of functionality and performance in PDF solutions. Beyond adding form update functionality, v2.1 makes some additional nips and tucks to PDFTextStream's robust profile:

Kodak print job data extraction (%KDK commands) is now supported
Every aspect of PDFTextStream's documentation has been revised and improved
Four additional widely-used PDF file format variants (which do not follow the official PDF document specification) have been identified and supported
PDFTextStream's document merge utility has been patched to eliminate two bugs
PDFTextStream licenses start at $1,399 USD per server; redistribution licenses for OEM partners are available at reasonable royalty-free rates. For additional PDFTextStream v2.1 product details, please visit http://snowtide.com/PDFTextStream.
About Snowtide Informatics Systems, Inc.
Snowtide Informatics Systems, Inc. is a privately held software company headquartered in Holyoke, Massachusetts. Its high-performance software and custom development services enable large enterprises and government agencies to automate the extraction, conversion, and cataloging of content held in PDF documents. PDFTextStream, Snowtide Informatics' flagship product, is a software component library for Java, Python, and .NET environments that has been built from the ground up to rapidly and accurately extract text and metadata held in PDF documents. For more information about Snowtide Informatics Systems visit snowtide.com.
# # #