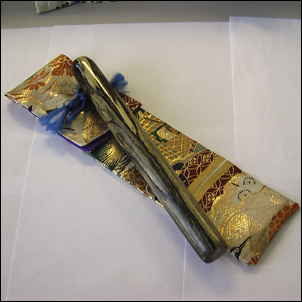 Many celebrities were interested in the Zen Sticks, especially my own orange, white, and brown Cocobolo
Sperry, OK (PRWEB) April 9, 2007
Zen Sticks, the new meditation tool favored by celebrities, will be relieving stress throughout the month of April on Living In Style, a 30-minute weekend news magazine show that discusses everything from gardening and travel to home decorating and fitness.
On the show, Laurie Desjardins, creator of Zen Sticks, will be explaining the benefits of meditation using Zen Sticks as a relaxation tool, and demonstrating how these unique meditation tools actually work with her own orange, white, and brown Cocobolo wood Zen Stick.
The show will feature meditation techniques used with Zen Sticks, as well as several of the relaxation tools made from exotic hardwoods, including Bocote, Zebrawood, Purpleheart, Olive Wood, Ebony, and Koa. Each of the Zen Sticks are sanded and polished with jeweler's tools to bring out the wood's natural grain and comes with an optional cloth carrying case made from a retired Japanese obi.
The Zen Sticks were asked to come on Living In Style after the relaxation tools caught the eye of several stars in Hollywood at the Oscars party and the NAACP Image Awards. "Many celebrities were interested in the Zen Sticks, especially my own orange, white, and brown Cocobolo," said Desjardins. "I had to playfully wrestle it out of their hands--there was no way they were getting it!"
The episode featuring Zen Sticks relaxation tools was taped in March and will be aired throughout April. Air times and channels for local areas can be found at http://www.eastshoreproductions.com.
An online catalog with examples of the different varieties of Zen Sticks can be found at http://www.sleepingtiger.org/zen.htm. A portion of the proceeds goes to supporting My Brother's Keeper Animal Sanctuary, the refuge for tigers Laurie Desjardins founded in 2006.
About Sleeping Tiger, LLC
Sleeping Tiger, LLC created and produces Zen Sticks, a meditation tool made from polished exotic hardwoods. Sleeping Tiger is dedicated helping people find peace and tranquility in their personal environment. A portion of all proceeds earned by Sleeping Tiger, LLC goes to My Brother's Keeper, an organization that provides habitats and healing for tigers that are abused or abandoned.
Xeal Precision Marketing Press Release Optimization and Marketing
###