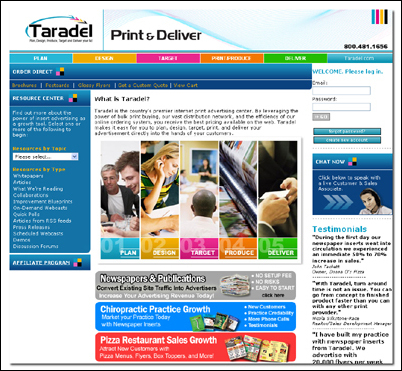 Richmond, VA (PRWEB) April 9, 2007
Taradel, LLC announces the launch of their new website dedicated to providing a turnkey solution for print advertisers who want their ads, designed, printed, and delivered directly into the homes of customers.
Visitors to http://www.Taradel.com can target exactly where they want their color flyers delivered, obtain instant pricing for print and distribution services, and place their print and deliver order with ease through a secure credit card transaction. Most importantly, they do it themselves, all without the help, and expense, of a traditional advertising agency.
The Taradel website features free customer targeting tools which make planning a print advertising campaign a hassle-free experience. Visitors also have access to free industry-specific print samples, a fully customizable ad design tool, and a database of free articles and whitepapers that offer insight into print advertising best practices and strategic planning.
By leveraging the power of bulk print buying, a vast newspaper distribution network, and the efficiency of a streamlined online ordering system, business owners receive the best pricing available on the web. Taradel makes it easy for small business owners to compete with large corporations for a fraction of the cost. For example, Taradel can print and distribute a full color, glossy 8.5 x 11 flyer for about $.10 per home.
The launch of Taradel.com has revolutionized the process of ordering and delivering print advertisements and has unleashed the power of both targeted direct mail and targeted newspaper distribution to virtually every business in the country.
###