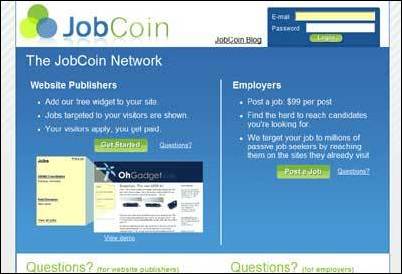 The real beauty of JobCoin is two-fold. First, I have total control over the branding of the application so I don't have to worry about confusing users by sending them to some foreign looking site
Chicago, IL (PRWEB) April 11, 2007
Today it is assumed that employers will post new job openings online and that job seekers will search for their next careers on the web. But unlike a few years ago when Monster and CareerBuilder dominated the online job board space, today the tide is shifting.
"Niche sites controlled about 64 percent of the online job-search market in 2006, up from 39 percent in 2004," according to Gordon Borrell, CEO of consultancy Borrell Associates.
Monster makes up only 14 percent of online job board revenue and CareerBuilder accounts for only 12 percent, according to a recent Borrell Associates report. This is a dramatic shift from five years ago, and with new companies like JobCoin entering this industry, the trend is likely to continue.
"One significant factor driving this change," according to Keith Schacht, CEO of JobCoin, "is the explosion of niche web sites--blogs in particular--and the maturing of these sites as viable businesses. Newspapers and print media have two major sources of revenue, print advertising and classified advertising. Blogs, industry news websites, and trade association sites are just beginning to discover job boards as a significant source of revenue."
At the beginning of 2005, there were approximately 7 million blogs online. Today there are more than 70 million, according to Technorati's State of the Blogosphere report. In the last twelve months, popular blogs such as 37signals, TechCrunch, and Joel on Software all added job boards to their sites, and hundreds of other blogs followed. The JobCoin job board software makes it incredibly easy for blogs and niche websites to add a job board and begin earning a new source of revenue.
"The real beauty of JobCoin is two-fold. First, I have total control over the branding of the application so I don't have to worry about confusing users by sending them to some foreign looking site," said Patrick McNeil, founder of DesignMeltDown.com, "Second, it required no installation; my job board was up and running in a matter of minutes, not days or weeks."
"We have been working closely with hundreds of website publishers, both large and small, to create a service that is incredibly easy to use, yet provides all the flexibility and control that website publishers want," said Schacht. "By creating a revenue-generating service that website visitors appreciate, JobCoin strengthens the long-term business potential for millions of online publishers, and provides an incredible new tool for employers."
In minutes, website publishers can add a JobCoin job board to their sites, fully customized for their audience. Employers can post jobs directly to the website, plus Indeed.com, the most comprehensive search engine for jobs, is providing its job search results to the JobCoin job boards. The website's visitors benefit from job listings that are highly relevant to their interests.
"In providing job search results from the Web to the JobCoin Network, we are helping JobCoin's partner websites give their users a superior job search experience," said Paul Forster, CEO of Indeed. "JobCoin's custom job board software is an attractive option for publishers that we are glad to be part of."
To get started, website publishers can visit http://www.jobcoin.com to create an account. Accounts are activated instantly. To start receiving revenue, the publisher copies and pastes a small piece of HTML onto their web pages. Once the job board is up and running, publishers may customize their job board as much as they like, even creating an entire new section of their website. To monitor performance, JobCoin provides traffic and earnings reports.
In addition to creating an account at JobCoin, website publishers with more than 5 million page views per month may be eligible for premium JobCoin service which includes a dedicated account representative and one-on-one assistance to set up and optimize the website's job board.
About JobCoin
JobCoin helps employers reach their ideal job candidates and provides website publishers with a new source of revenue by including highly relevant job listings on their sites. Ultimately, JobCoin seeks to change the way candidates and employers connect. JobCoin is a privately held, privately funded company based in Chicago. For more information, visit http://www.jobcoin.com.
###