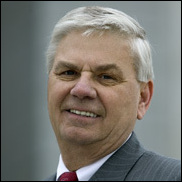 It is a reflection on what a tremendous industry we have built together here in Vermont.
Montpelier, VT (PRWEB) April 10, 2007
For over 30 years Leonard Crouse has been a leader in insurance regulation and has been credited as a key figure in advancing the captive insurance industry.
Crouse, the deputy commissioner for captive insurance for the State of Vermont, has been honored for his efforts with the 2007 Distinguished Service Award presented at the Captive Insurance Companies Association International Annual Conference in Tucson, Arizona. Created in 2006, the award recognizes significant contributions to advancing the captive insurance industry.
"It was a great honor to receive this award," said Crouse. "It is a reflection on what a tremendous industry we have built together here in Vermont."
Nicholas Parillo, president of the Molly Anna Captive Insurance Co. and Canton, Mass.-based vp-global insurance for Royal Ahold N.V says Crouse is an experienced and innovative regulator with an uncommon ability to focus on strategic issues and opportunities. "Len's integrity and firm-but-fair demeanor have earned him the highest respect from both legislators and captive owners," he said.
Crouse was appointed Deputy Commissioner of Captive Insurance in May of 2003. He is responsible for the administration and regulation of captive insurance companies and risk retention groups and oversees a staff of 28 employees.
Prior to his appointment as Deputy, Crouse was the Director of Captive Insurance since May of 1990. He has served on various committees and working groups representing both Vermont and Massachusetts at the National Association of Insurance Commissioners.
Crouse has published a number of articles for various trade publications on the subject of captive insurance, and is a highly regarded speaker at seminars and conferences nationwide.
"Len sets a very high standard every day with hard work, a passion for working with the client and knowledge of the industry that's second to none," said Dan Towle, director of financial services for Vermont's Department of Economic Development.
Prior to working for the Department, he served as Chief Examiner of the Property and Casualty Division of the Massachusetts Insurance Department. Crouse is a member of the Society of Financial Examiners and holds the designation of Certified Financial Examiner.
The CICA International Conference is a premier event for top captive insurance and risk retention group professionals. Featuring two full days of education sessions and a comprehensive tradeshow, offering captive owners and risk managers an opportunity to learn about and evaluate business solutions and ideas with service providers and domiciles.
Vermont is the nation's largest captive insurance domicile with nearly 800 companies licensed, including 42 of the companies that make up the Fortune 100 and 19 of the companies that make up the Dow 30. For more information visit: VermontCaptive.com.
###