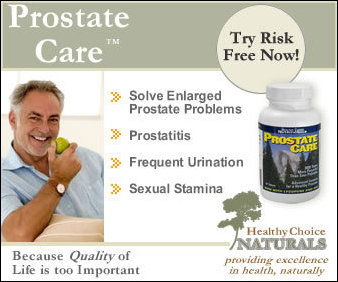 HealthyChoiceNaturals has received numerous testimonials from customers about ProstateCare™ and how it has changed their lives.
San Clemente, CA (PRWEB) April 10, 2007
Men suffering from enlarged prostate causing frequent urination and other related problems are seeking natural alternatives to prescription drug side effects and surgery. In 2001, Frank Darling, founder and CEO of HealthyChoiceNaturals found that when searching for natural alternatives for men's health, information was sparse and most products were focused on women's health. During that time, women had a greater acceptance of the new market for natural alternative solutions for health care. "Today, men have a greater acceptance of natural health products and are seeking out ways to help with male prostate problems." Most prostate problems such as prostatis and prostate infections are caused by an enlarged prostate. As you grow older most men face the problem of a swollen or enlarged prostate gland this is a natural occurrence with aging. Most common symptoms being frequent urination, infections and lowered sex drive.
Mr. Darling, a believer in using all natural ingredients began researching natural ingredients to treat symptoms of prostate problems. After a worldwide search for solutions and extensive research, ProstateCare™ was offered at HealthyChoiceNaturals. The remarkable key ingredient in ProstateCare™ is "Beta-Sitosterol". It is used by tens of thousands of men in Europe and America and has helped solve many prostate related problems. This same discovery may lower PSA score (prostate specific antigen is an enzyme produced by the prostate cells. PSA levels can be used to tell if you have prostate related diseases, such as prostate cancer) and protect you from getting prostate cancer. Beta-Sitosterol may actually help you overcome prostate disease without having to undergo the use of dangerous drugs, debilitating and dangerous surgery, uncomfortable prostate biopsies, harmful radiation treatments and catastrophic microwave damage to your tissues.
In the major studies performed, using Beta-Sitosterol as a prostate treatment, Beta-Sitosterol has shown to be very safe and effective, with most of the improvement occurring in the first month, then continuing for the duration of the study, without any relevant side effects. It supports good prostate health primarily by maintaining healthy male hormone balance.
"ProstateCare™ has been developed based on years of research on the benefits of Beta-Sitosterol." Each ProstateCare™ tablet contains 300 mg of Beta-Sitosterol and now with enhanced formula you get the additional benefits of DIM (Produced A 70% Reduction in Cancer Cell Growth) and Lycopene (Amazing Antioxidant for the Prostate May Reduce Your Chances of developing Prostate Cancer by as Much as 45%).
"HealthyChoiceNaturals has received numerous testimonials from customers about ProstateCare™ and how it has changed their lives." HealthyChoiceNaturals recommends taking 2 tablets daily, for
60 days, to experience a significant improvement in frequent urination issues, prostate infection,
enlarged prostate, prostatitis, BPH and most other prostate problems.
For further information visit: http://www.healthychoicenaturals.com or call 1-800-985-2808.
###