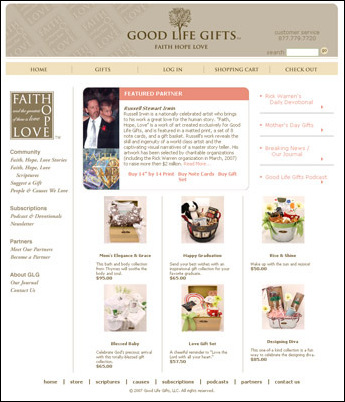 So let us spur one another on toward love and good deeds.
Chesterfield, MO (PRWEB) April 10, 2007
"So let us spur one another on toward love and good deeds." The founders of GoodLifeGifts.com have let this Bible verse, found in Hebrews 10:24, be the inspiration and guidance for their new online endeavor. And now, with the Grand Opening of GoodLifeGifts.com, the public may finally take part in their innovative and interactive E-Commerce store that promotes the work of Christian artists and entrepreneurs.
All of the inspirational Christian gifts and gift baskets sold on GoodLifeGifts.com are simplistically focused on the themes of faith, hope, and love. The baskets are personalized Christian gifts that are all hand decorated and prepared with spirit and enthusiasm. The passion behind these Christian Mother's Day gifts, breast cancer gifts, new baby gift baskets, and more ensure that the recipient feels the personal thought put into the gift--as opposed to an impersonal gift card or mass-produced present.
Co-Founder and CTO, Romondo Davis, highlights, "People want to give purposeful, inspirational gifts. Good Life Gifts steps up the meaning of gift giving to authentically reflect what people want to share -- their Faith, Hope and Love. We will be successful if GoodLifeGifts.com is an online destination for encouragement and creativity."
GoodLifeGifts.com is designed to be more than just another E-Commerce store with personalized Christian gifts. For the past year, Davis and fellow co-founder Steve Hoeft, have been developing the aspects of the site to promote an interactive community where visitors can share their stories of faith, hope, and love that they carry on their hearts. They may also listen to the daily devotional podcasts by the celebrated author Rick Warren, suggest their own inspirational gift idea, learn about and suggest charitable causes with the same focus, and read scriptures of faith, hope, and love. Custom gift baskets may also be created for special events.
Hoeft elaborates, "GoodLifeGifts.com is about celebration. We celebrate remarkable gifts of Faith, Hope & Love, and in turn, we celebrate the people who make them. We celebrate stories of Faith, Hope & Love, and in turn, we celebrate God's character. Who will visit GoodLifeGifts.com? People who want to celebrate, share, or be encouraged by Faith, Hope & Love!"
The site facilitates and focuses on Christian artists and entrepreneurs that otherwise may not have a platform to sell their creations. Currently, their featured artist and partner is Russel Irwin, a multimedia artist that has created an inspirational interpretation of the community's focus on faith, hope, and love.
For more information on Christian Mother's day gifts, gift baskets of faith, or the corresponding inspirational virtual community, please visit GoodLifeGifts.com.
About GoodLifeGifts.com:
Co-Founder Romondo Davis (CTO) comes from a background of broadcasting and computer multimedia. Fellow co-founder Steve Hoeft (CEO) came aboard to concentrate on his own vision after founding two Inc 500 recognized ad agencies. And co-owner Bill Lehmann (COO) brings his expertise of CPA and marketing to the organization.
###