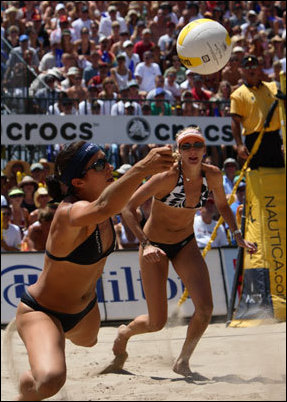 Miami, Flordia (PRWEB) April 10, 2007
The first serve of the 2007 AVP Crocs Pro Beach Volleyball Tour will take place Saturday April 14, 2007 at Bicentennial Park in Miami and continue through Sunday April 15, 2007. Tickets are available at AVP.com/Miami.
The opening stop in Miami is the first of three AVP Cuervo Gold Crown events. The second will take place in Dallas April 19 - 22, and the final in Huntington Beach May 3 - 6, where the largest check in AVP history, $100,000 will be awarded. In total the 2007 AVP Crocs Tour makes 18 stops across the United States featuring 150 of the top Pro Beach Volleyball players in the world.
Heading the list of the 150 athletes are the 2004 Olympic Gold Medalists Misty May-Treanor and Kerri Walsh. This duo has dominated the beach since their team debut in 2003. In 2006, May-Treanor and Walsh won 13 of 15 team tournaments including the season opener in Ft. Lauderdale, the lone Florida stop on the 2006 tour.
In 2007, May-Treanor and Walsh will look to continue their run from the previous four seasons where the duo has won the opening event of the tour. All four previous opening events took place in South Florida, where May-Treanor and Walsh have dominated having not lost a match and only dropping three games along the way.
Several formidable teams stand in May-Treanor and Walsh's way, and hope to the put an end to the run. Second-seed Annett Davis and Jenny Johnson Jordan, winners of eight championships together, were Olympians in 2000. 2004 Bronze Medalist Elaine Youngs will play Nicole Branagh. Seven-time winner Rachel Wacholder will partner with Tyra Turner. And career titles leader and 2004 Olympic Bronze medal winner Holly McPeak will team with two-time Olympian Logan Tom.
The story on the men's side is the final hurrah for Karch Kiraly. Kiraly, winner of 148 titles and three gold medals, announced that 2007 will be his last on AVP Crocs Tour. Kiraly has been the face of Beach Volleyball for three decades, taking to the sand a final time with his fluorescent Pink Speedo Hat. Miami will be the last time for Volleyball fans in Florida to say thank you to the greatest who ever played. Much like the retirements of Julius "Dr. J" Erving, Kareem Abdul Jabbar, Cal Ripken, and John Elway, fans will get the opportunity to say goodbye in person to a legend.
While Kiraly, who is partnering with former Olympian Kevin Wong, is in search of his 149 career title, several talented teams stand in his way. Top-seeded Mike Lambert and Stein Metzger won five titles and the Crocs Cup in 2006. Second-seeded Todd Rogers and Phil Dalhausser won eight team titles. And third-seeded Jake Gibb and Sean Rosenthal look to repeat their opening performance last season with a victory.
On Friday, former NBA star and the first ever draft pick of the Miami Heat, Rony Seikaly, will try to qualify for the AVP Miami Open. Admission is free to see Seikaly compete to play the best beach volleyball pros in the world.
Do not miss a serve, dig or spike this weekend in Miami. Buy your tickets today at AVP.com/Miami!
###