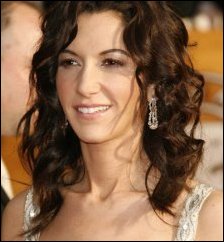 Beverly Hills, CA (PRWEB) April 11, 2007
Los Angeles, CA (PRWEB April 11, 2007 -- A Hollywood fresh face and up-and-comeing star Jennifer Sciole began principal photography on her next project, Blood; A Butchers Tale on March 24th.
Sciole stars in the visually inventive, highly stylized, thriller-horror along with Aaron Douglas, Kim Coates, Christa Campbell and Emily Perkins.
Blood; a Butchers Tale, is the harrowing tale of Sam (Douglas), a simple butcher who discovers that the love of his life, Darcy (Sciole), is being seduced by a vampire (Coates). As he investigates further he realizes that his destiny is to become the destroyer of this blood thirsty race. Sam begins a killing spree with the slaughter of his beloved wife, then her blood addicted lover. Sam then makes it his duty to systematically destroy the remainder of the clan, until he hesitates about killing Lily (Campbell), the last of her race. Helplessly he falls in love with Lily and learns to respect her desire to be normal.
Eventually Sam must battle with the possibility of repopulating the planet, with the exact race he set out to destroy.
The film will be the first in the Horror genre to have the look and feel of 300 and Sin City. The filmmakers are using the latest in CGI technology and the new Silicon Imaging SI-2K Digital Camera, which shoots at higher resolutions than HD, to blend stylized graphic and live-action elements seamlessly. In addition, the producers are releasing a video game, Blood; Butchers Block, simultaneously with the film.
Sciole is signed to star in five features over the next 12 months, including "Flickering Candle" which will be shot in South Africa, Political Engagement, Dead Lawyers, Crimson and Beneath Justice. She has a supporting role in the soon to be released "Breaking the F-ing Rules" with John Melendez, Mark Cuban, and Jeffery Ross; and she was featured in the upcoming season premiere of Entourage.
###