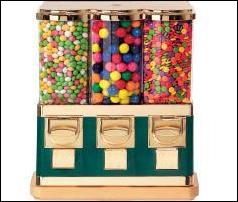 These old fashioned machines were notoriously difficult to service and easily broken into, making it difficult for vendors to see returns on their investment
Kaysville, UT (PRWEB) April 11, 2007
In an effort to improve the overall appeal and revenue of bulk candy vending machines, vending experts at 1-800-VENDING have devised vending machines with three product modules and interchangeable canisters. The newly designed vending machines offer three choices of candy to customers while supplying a low-maintenance, high-profit business opportunity to vendors.
Traditional bulk candy vending machines were constructed to offer one or two candy choices held in round globes. "These old fashioned machines were notoriously difficult to service and easily broken into, making it difficult for vendors to see returns on their investment," said Mike Burnett, co-founder of 1-800-VENDING.
The first alternatives to traditional vending machines offered more candy options to customers but were made of all-plastic or cheap metal. All-plastic machines are less expensive but lack durability. "All-metal machines separate the candies with only tin partitions, frequently allowing one product to "bleed" into another," said Burnett. "These vending machines also conduct heat, leading to high temperatures that will often melt and therefore ruin products."
To solve these problems, Mike Burnett and Jeff Marsh, the owners of 1-800-VENDING, set out to build a better vending machine.
"Over the years in selling quality vending machine products, our office has purchased, scrutinized and thoroughly tested virtually every vending machine you see advertised in the market today," said Jeff Marsh, co-founder of 1-800-VENDING. "We're offering the best-built vending machine in the world."
Their innovative design combines high quality shatter-proof polycarbonate canisters with durable metal or wood stands, tamper-proof chute doors and steel coin mechanisms. Their interchangeable canisters system also provides a convenient way for canisters to be pre-filled and stored in a specially designed service tote.
Advantages of the 1-800-VENDING design:

Eliminates the need to pour candy into the machines at each location
Provides easy tracking of product sales at each location
Makes for easy rotation of slow moving products
Maximizes profits by taking the guesswork out of product selection
"The interchangeable canisters allow us to know the right candies for each location instead of just guessing what they might be," said Wayne and Jade D., vendors from Antioch, California. "And, the canisters really cut down on the time it takes to service our vending machines."
Visit http://1800vending.com/canister.html to learn more about how interchangeable canister vending machines by 1-800-VENDING have revolutionized the vending industry and can maximize vendor profits.
About 1-800-VENDING
As a multi-million dollar company and the world leader in the vending machine industry, 1-800-VENDING closely monitors the manufacturing process to ensure only the highest quality equipment is provided and sustained. Not only have the primary parties been involved in the vending machine industry for over two decades, they have a combined tenure in the home-based business arena for over 30 years.
Professional press release optimization by Xeal Precision Marketing
###