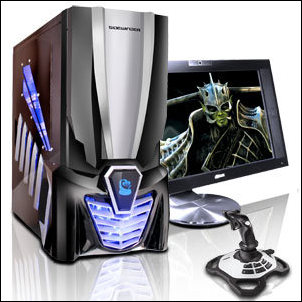 iBUYPOWER is helping to lead the charge into a new era of PCs designed exclusively for online gamers
Austin, TX (PRWEB) April 11, 2007
New Online Gaming PCs start at $895
Austin, TX (PRWeb) April 11, 2007 -- iBUYPOWER, a Los Angeles-based provider of gaming desktop and notebook PCs, released three new Online Gaming PCs (OGPCs), including the Dungeon Warrior, Dungeon Knight and Dungeon King. With prices starting at $895, iBUYPOWER's new Online Gaming PCs feature the award winning Killer™ NIC, the first online gaming accelerator powered by Lag and Latency Reduction (LLR™) Technology. The new PCs provide improved online gaming performance with a system configuration that costs less than traditional gaming PCs.
"iBUYPOWER is pleased to announce our partnership with Bigfoot Networks to launch Killer online gaming accelerators in our machines. Bigfoot Networks is driving a new market for online gamers and we couldn't be happier to be part of it," said Darren Su, Vice President of iBUYPOWER.
A sample configuration of iBUYPOWER's new Dungeon Knight OGPC, which costs $1095 includes:
o The Killer M1 Gaming Network Card with FNApps - FNTorrent and FNFirewall Clients
o Intel Core 2 Duo Processor E6400
o Windows® Vista™ Home Premium
o NVIDIA GeForce 7600GS 512MB Video System
o 1024MB DDR2-800 PC6400 Memory
o NVIDIA GeForce 7300GS 256MB Video System
o 250 GB SATA II 7200 RPM 3GB Hard Drive
o 18X DL DVD+R/+RW + CD-R/RW Drive
o 3D Premium Surround Sound
"iBUYPOWER is helping to lead the charge into a new era of PCs designed exclusively for online gamers," said Harlan Beverly, Bigfoot CEO. "LLR Technology and the Killer NIC allow PC manufacturers to offer truly customized solutions for online problems like Lag, multitasking and downloading torrents or other files while gaming."
An added bonus to gamers who purchase a new iBUYPOWER Online Gaming PC is the ability to run applications, like Bigfoot's FN Torrent client which allows gamers to download the files they want without impacting their online game play.
For more information on the Killer NIC visit http://www.killernic.com. For more information on iBUYPOWER and its new line of Online Gaming PCs visit http://www.ibuypower.com
About the Killer™ NIC
The Killer NIC is a Network Interface Card powered by LLR Technology and offers gamers superior speed and performance in their online games. Killer's 400 MHz Network Processing Unit (NPU) and 64 MB of dedicated DDR is one of the first applications of Corporate Network Acceleration Technology introduced to the consumer market. The Killer NIC offers improved gaming performance, standard NIC functionality, and has an onboard USB 2.0 port as part of its Flexible Network Architecture, which allows gamers to write their own embedded Linux applications to run on the NPU. Killer runs on PCs that run the Microsoft Windows XP operating system.
About iBUYPOWER
iBUYPOWER Computer is an enterprise in association with American Future Technology Corporation, AFT. Both are located in Los Angeles County, the heart of Southern California. iBUYPOWER's mission is to provide a complete computing solution to meet the needs of the surrounding community and customers nationwide. Currently, the company's product lines include gaming desktops, gaming notebooks, workstations, media center PCs, peripherals and multimedia products.
About Bigfoot Networks
Bigfoot Networks, the company responsible for the development of LLR™ Technology and the award winning Killer™ NIC, is an innovative Austin-based start-up dedicated to making the online gaming experience both faster and smoother. The company develops networking hardware products that improve performance and reduce Lag in online video games. Bigfoot Networks has won numerous awards, including a 2005 Fortune Small Business Award and the prestigious 2005 Moot Corp Competition at the University of Texas.
Killer and LLR are trademarks of Bigfoot Networks. All other trademarks are the property of their respective owners.
###