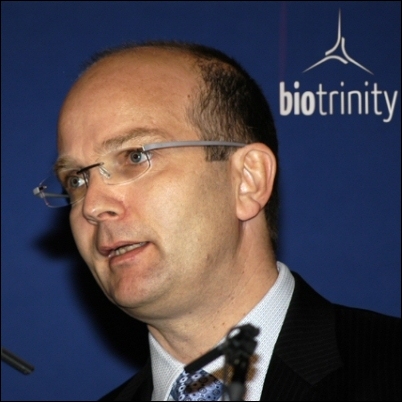 Most Promising Emerging Company Showcase
(PRWEB) April 16, 2007
The inaugural BioTrinity was a great success, becoming the largest biotech & healthcare partnering conference in the Oxford and South East biotech region, with over 400 delegates, 285 companies, 180 licensing opportunities and 520 one-to-one partnering meetings scheduled.
"I was particularly pleased with the quality and intensity of the partnering which achieved a level that has taken other conferences many years to achieve. BioTrinity is now well and truly on the partnering calendar for biotech business development," Dr Jon Rees, Network Director.
Talk within the Oxford BioCluster is of a strong resurgence in the sector, with a flurry of deals and acquisitions in recent weeks. VASTox strengthened its pipeline with the double acquisition of DanioLabs, a private UK drug discovery company, and also acquired Dextra Labs, for a total of £18m on March 18th. Evotec have more than twice as many employees in Oxford as in Hamburg and acquired the French company Neuro3d on March 29th.
Most significantly, Oxford BioMedica announced their $690m licensing deal with Sanofi-Aventis for phase III cancer vaccine TroVax on March 28th, coinciding with BioTrinity. This comes just two weeks after BioMedica acquired former stablemate Oxxon Therapeutics for £16m.
All of this, following the huge key deals presented at BioTrinity including Pfizer's acquisition of PowderMed and Eli Lilly's $385m licensing deal with Oxford-based Prosidion, the latter transaction was described in detail by Prosidion President, Dr. Anker Lundemose (PICTURED).
OBN's Director, Dr Jon Rees, presented data which suggest that the Oxford and South East supercluster may be the most successful biotech fundraising region in the UK, highlighting that since 2004, 16 biotech and healthcare IPO's have valued the companies concerned at over £465m, raising over £157m. Those companies are now worth £740m with an average increase of 59% in market capitalisation since IPO. Over £130m in private equity financing has been raised in the same period: Chroma £38m, Oxagen £32m, Archimedes Pharma £25m and PowderMed £20m among others.
Certainly the mood at BioTrinity was optimistic with several recent funds doing the rounds including Abingworth's ABV V and the Wellcome Trusts new £90m translational seed fund.
David Mott from Oxford Capital Partners commented, "There was a high calibre of participants and the event has raised the profile the Oxford and Thames Valley biotech cluster. This will create a rising tide for us all."
BioTrinity's organisers are expecting to bring more positive news in 2008 and have expanded the meeting to two full days to accommodate the sector's insatiable demand for one-to-one partnering with the supercluster's successful players.
For further information:
De Facto Communications
Deborah Cockerill
Tel: +44 (0) 20 7861 3838
Maria Patey
Tel: +44 (0) 20 7861 3838
Notes to Editors
BioTrinity is the country's leading biotech networking event. It showcases the Southern UK's biotechnology supercluster, which leads the UK in attracting investment. Twenty-five of the most promising drug discovery and development, diagnostics and medical device companies were selected to be featured in BioTrinity 2007's "Most Promising Emerging Company Showcase". BioTrinity also features: one-to-one partnering meetings, a licensing and spin-out technology showcase, an exhibition and a number of workshops. More conference details are available online at http://www.biotrinity.com.
Oxfordshire Bioscience Network ("OBN"), the South East's most active biotech business network, promotes biotechnology and healthcare networking and enterprise across Oxford and the South East biotech super-cluster. Launched by Lord Sainsbury in 1999, OBN is now a financially self-sustainable network which raises 80% of its operating costs from private sources and operational activity. In the past 18 months, OBN has delivered over 25 meetings, attracting nearly 1700 delegates, notably its trademark BioTuesday biotech business networking evenings. Over the same period, Oxfordshire has received commitments to four major new developments, including a soon-to-be-unveiled new facility for incubator and grow on space in MEPC Milton Park, the largest industrial and science park in Europe.
# # #