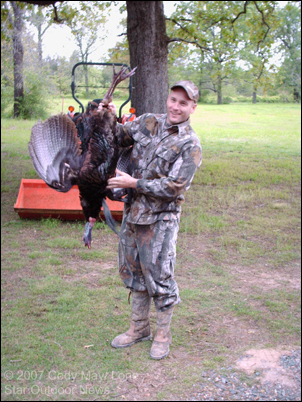 We are taking some of the fishing news, hunting news and features from the paper on-line, but there is so much more Texas fishing and hunting news beyond what we can include in the printed version, and the site is a great place for it
Dallas, TX (PRWEB) April 12, 2007
A Texas hunter has shot a potential world record turkey, an eastern wild turkey with a 22.5-inch beard. According to National Wild Turkey Federation records, the bird has the longest beard recorded on any eastern turkey harvested.
Lone Star Outdoor News broke the story late Wednesday afternoon and has the full story on its Web site, http://www.lonestaroutdoornews.com.
The April 13th printed version of Lone Star Outdoor News will also include a front-page story on the potential record bird.
Lone Star Outdoor News is the premier outdoor newspaper in Texas.
"We are now at the forefront of the Texas outdoor media and will be leading the pack," said founder David J. Sams. "Our new site will not just be the printed version on-line, it will be a whole different experience. With all of the Texas fishing and Texas hunting information available we wanted to add to our readership and grow in the on-line community."
"We are taking some of the fishing news, hunting news and features from the paper on-line, but there is so much more Texas fishing and hunting news beyond what we can include in the printed version, and the site is a great place for it," editor Craig Nyhus said. "Our readers will be able to download the current issue on the print date. This gives our subscribers more flexibility -- they can scan or read the issue on-line and later get the printed copy and take it to their favorite reading spot.
"Also, we have extra features like the fishing videos and hunting videos section in the Gallery where you can see a fish being caught or a duck being plucked," Sams said. "We want our readers to become more involved, and have the chance to send us their [deer hunting videos, fishing videos and hunting and fishing stories.
Lonestaroutdoornews.com will be a great diversion for sportsmen stuck in the office. It will give him or her the chance to connect with the outdoors daily."
Other features of the site offer: fishing reports for Texas bass fishing and Texas saltwater fishing.
Lone Star Outdoor News is a twice-monthly publication providing Texas sportsmen and women the most credible and timely information available. Copies are available statewide and now on-line.
###