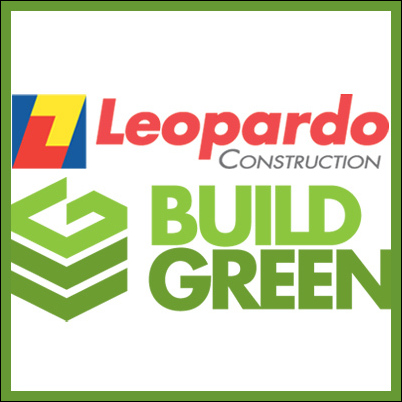 Hoffman Estates, Illinois (PRWEB) April 12, 2007
Leopardo Construction, a leading construction services firm, is a passionate advocate of building green and quickly demonstrating its leadership in the environmentally-friendly green movement.
Leopardo Construction assists clients who seek Leadership in Energy and Environmental Design (LEED) Certification for their projects. LEED is the nationally accepted benchmark for the design, construction and operation of high performance green buildings. Currently, Leopardo is working on or has recently completed seven projects that are seeking LEED Certification or incorporating green roof systems.
"We're definitely seeing more clients expressing interest in pursuing LEED-certified projects or adding green roofs and other green elements to the project scope," said Pierre Cowart, Vice President and LEED Accredited Professional (LEED-AP) at Leopardo Construction.
Leopardo is an active member of the Chicago Chapter of The U.S. Green Building Council (USGBC), the nation's leading nonprofit coalition for advancing buildings that are environmentally responsible, profitable and healthy places to live and work. Additionally, Leopardo continues to build staff competencies by earning LEED Professional Accreditations, which distinguishes building professionals with the knowledge and skills to successfully manage the integrated design and LEED certification process.
With a culture of continuous improvement and achievement, Leopardo Construction provides internal and external green training opportunities for employees. As part of Leopardo's long-standing Total Quality Management (TQM) initiative to increase company-wide quality and cross-awareness of all organizational processes, the Green TQM Committee is one of the firm's largest with 25 active employee members. In addition to promoting the benefits of green construction with clients, Leopardo's Green TQM Committee also encourages green practices internally with recycling, energy conservation, use of environmentally-friendly building materials, etc.
On April 5, Leopardo Construction sponsored and moderated the USGBC-Chicago Chapter Green Energy Seminar, which was attended by more than 100 professionals in real estate, architecture, engineering and construction.
About Leopardo Construction
Leopardo Construction is a leading construction firm providing pre-construction, general contracting, construction management, design-build and development services. In 2006, Leopardo Construction was recognized by Engineering News-Record magazine as one of the nation's largest 250 contractors. The company's team of 500 experts has specialized capabilities in interiors, healthcare, senior housing, retail, office, industrial, residential condominium, aviation, hospitality, municipal and educational projects.
For more than a quarter century, Leopardo's family of employees has been committed to quality construction, superior client service and tremendous value. In addition to its corporate headquarters in Hoffman Estates, Illinois, Leopardo Construction has offices in Chicago and Mount Pleasant, South Carolina, as well as job sites across the nation. For more information, please visit http://www.leopardo.com.
# # #