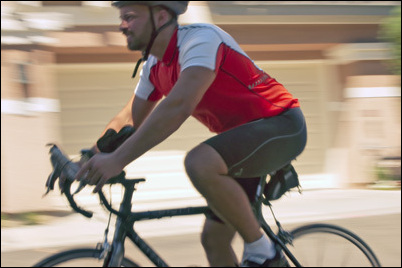 It was started by a group of physical fitness buffs who wanted to see who was in the best condition
Ladera Ranch, CA (PRWEB) April 12, 2007
An Orange County Realtor is preparing for the 2008 Ironman Competition. The event, which is considered to be the "World Series" of triathlons, is a grueling test of endurance that includes swimming, cycling, and running. This is not a sport for the faint-hearted yet it attracts large numbers of men and women, who eagerly compete in qualifying events all over the world.
John Daniel, of Ladera Ranch, will be among the hundreds of participants in next year's Half Ironman triathlon qualifying events that will take place in Oceanside California. Featuring some of the area's best athletes, the event includes a 1.2 mile swim, 56-mile bike ride, and 13.1-mile run. Training begins well before the actual event, and consists of a rigorous weekly schedule of swimming, biking, and running. John trains with local bike clubs in south Orange County. According to John, "Ladera Ranch is especially good for hill training. Irvine and Rancho Santa Margarita both have miles of long flat roads with wide bike lanes." He does his swimming training at the Nadadores Olympic training facility in Mission Viejo.
The triathlon originated 25 years ago in Hawaii. "It was started by a group of physical fitness buffs who wanted to see who was in the best condition," says John, who is very fit today, but says it was not always the case. "I had played some sports in school, but when I got into my thirties, I concentrated on my career, and didn't get as much exercise. I see the Ironman competition as a way of helping me maintain discipline, set goals and stay motivated. Ironman training has been invaluable in helping me build a level of confidence that has been the key to my sales success. It's about developing an unstoppable mindset."
When not competing, John is a successful real estate agent with multiple degrees in business, science, and medicine. He began his Orange County real estate career in 1998 with one of Orange County's largest real estate companies. Currently, John holds a California real estate brokers license and owns Daniel Realty and Investments, a premier specialty real estate shop that excels at residential real estate sales in south Orange County as well as Residential Multi Unit investment properties. John's Primary goal is to maximize clients' wealth through careful planning and strategic decision-making. A member of the presidents club for real estate excellence, John's strengths include excellent follow up skills, and a commitment to customer satisfaction.
For more information, contact:
John Daniel
Tel: (949) 481-7358
http://www.jdanielrealty.com
###