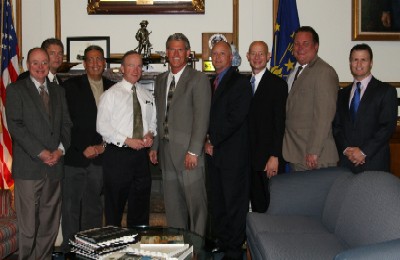 We do that and more
Indianapolis (PRWEB) April 12, 2007
Demand for service sector workers, from bank tellers to financial planners, is growing faster than the supply, according to the chief executive officer of PrincetonOne, one of the 10 largest recruitment organizations in the United States.
"The talent gap is growing virtually monthly," said Dave Campeas. As large groups of baby boomers retire from the workforce, there aren't enough people to take their place, Campeas explained as he helped officially open the firm's new, consolidated, Indianapolis office.
Mass retirements, however, are only part of the problem. Nationally, and in general, unemployment has been historically low. Not since the late 1990s has there been a significant upswing in the number of new jobs created. In fact, said Campeas, "No matter what happens in the macro economic picture, the employment scene remains good for workers and good for job seekers."
The outlook is perhaps more dire in the healthcare sector, which faces a prolonged, eight to 10 years where the supply of skilled workers will fall far below the demand, according to Campeas.
"Attracting, hiring and keeping good employees was difficult enough before large numbers of workers began retiring," he continued. "What employers are discovering now is that the human resources picture has changed. It's more complex. They need a specialist that can locate the talent they need to stay competitive. That is just one of the services we provide at PrincetonOne."
Outsourcing human resource functions is a continuing trend, according to Campeas. But more companies are demanding a one-stop shop. They want an organization that can help them do everything from hire a new CEO to recruit new college graduates, to help them implement training and organizational development. "We do that and more," he said.
Headquartered in Skillman, N.J., PrincetonOne operates 15 U.S. offices, three European offices and a single office in Asia.
PrincetonOne decided to commit to Indianapolis, according to Campeas, in part because of the location's access to premium colleges and universities and the helpful, accommodating attitude of the state's people. The firm also was awarded an incentive package of tax breaks and grants.
For more information about employment trends or PrincetonOne and its services, please visit the company's Web site, http://www.princetonone.com.
Contact: Susan Dillman, Ashley & Associates Inc.
Phone: 317-920-6100
Mobile: 317-690-8439
Web site: http://www.princetonone.com
###