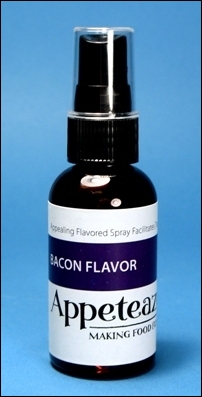 most frequently pets reject the new food because it doesn't smell or taste as good and the 'mouth feel' is different than the food they are used to.
Bethesda, MD (PRWEB) April 13, 2007
Many of whom have been feeding their pets the same tasty canned or pouched foods for years - are finding themselves caught up in the pet food recall and facing an uphill battle as they try to get their pets to eat a new food.
Dogs and cats are creatures of habit and once they become accustomed to the smell and taste of a particular food, many are very reluctant to accept any change in their diet. With their exquisite senses of smell and taste hard-wired to the brain, it is not unreasonable to expect significant reluctance to change when they perceive a new food as 'different'.
Switching pets to a new food has always been a challenge for pet owners. Veterinarians, faced with patients who frequently balk at the change to therapeutic diets, often rely on Appeteazer spray to facilitate the transition. This specialty product is made by FLAVORx, the company best known for turning bad tasting medications into palatable suspensions for kids and pets
As owners attempt to switch to new brands of cans and semi-moist foods or to dry foods which have not been affected by the recall, many find their pets are turning their noses up to the new offerings. As Dr. Joel Ehrenzweig, VP of FLAVORx Veterinary Division and an expert on compliance explains, "most frequently pets reject the new food because it doesn't smell or taste as good and the 'mouth feel' is different than the food they are used to." He continues that, "When a pet owner sprays Appeteazer on a new food, the smell and taste are greatly enhanced. Adding water to the dry food can give it a consistency similar to the animals 'old' canned or semi-moist diet and the animal will accept it."
Appeteazer sprays are usually only needed for the first few weeks to overcome initial resistance to the dietary change. Once the pet is accustomed to the new food, however, many pet owners use it as a treat.
Appeteazer is available in FLAVORx's most appealing flavors- Chicken Pot Pie, Red Angus Beef, Crispy Bacon and Salmon Steak -offers veterinarians, their clients and patients a level of safety and security which is backed by the FLAVORx system, relied upon by 40,000 pharmacies across the US and Canada to safely flavor over 50 million prescriptions- without a single reported incidence of loss of stability or adverse reaction.
To help pet owners and veterinarians through this difficult period of readjustment following the massive food recall, FLAVORx is making Appeteazer available directly to consumers as well as to veterinarians.
For more information, please visit http://www.flavorx.com/vet or contact Jennifer Lewis at 800.884.5771 extension 262.
About FLAVORx
FLAVORx is a pharmaceutical flavoring system used by pharmacists and veterinarians nationwide to improve the palatability of liquid over-the-counter and prescription medications. To date, FLAVORx has flavored over 40 million prescriptions without any incidence of allergy, adverse reaction or changes in efficacy. FLAVORx flavors are non-allergenic, dye-free, sugar-free, phosphate-free and alcohol-free, making them safe for all patients. With over 42 flavors ranging from Bubblegum and Watermelon to Chocolate Silk Pie and Peaches 'n Cream, FLAVORx is sure to please any taste bud whether it's a child or an adult. In addition, 16 animal-inspired flavors such as Crispy Bacon and Salmon Steak help medications go down a little easier for FLAVORx's veterinary friends as well. FLAVORx's newest product, FLAVORiT, an at-home flavoring kit for OTCs and other liquids hit store shelves in March 2007.
###