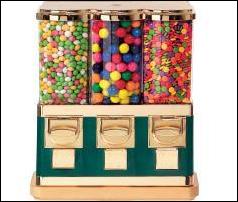 We created a system of identical canisters that can be filled with a wide selection of candies and switched out in a matter of seconds
Kaysville, UT (PRWEB) April 13, 2007 -
After spending years studying every aspect of the most popular vending machines on the market, Michael Burnett and Jeffrey Marsh began to design their own vending machine, using "all of the good and none of the bad". Their innovations resulted in 1-800-VENDING, a company that has changed the face of the vending machine industry.
"Since maintenance costs were such an expensive part of other vending machines, we wanted our machine to have durable, high-quality parts both inside and out," said Burnett. "From the steel anti-jam coin mechanism and all-metal heavy-duty hopper to the shatterproof polycarbonate canisters, our vending machine is tamper-proof and virtually indestructible."
The lid of the machine and the cash drawer are equipped with a recessed "bullet-lock" security system. Each machine is supplied with a removable sun shield to protect candy in vending machines placed near windows. They also designed their vending machines to look sophisticated and professional - to show off their products in the best possible light.
Tim C., a 1-800-VENDING customer from Boise, Idaho found out first hand how much difference looks can make when it comes to vending machines. "There was already a vending machine in the lobby when I came to place mine. When the owner saw (my) vending machine, he immediately told one of his employees behind the counter to call the owner of the other vending machine and have it removed! He was so impressed with the (new) vending machine, he allowed me to replace the machines in his other store as well!"
1-800-VENDING machines offer 17 color combinations to choose from - each with a scratch-resistant DURAbody. Vending machine owners have a choice of matching metal stands or a pine wood stand - as well as optional spill trays.
By creating durable and attractive machines, Mike and Jeff have provided a higher profit margin by lowering maintenance costs and ensuring more profitable locations can be secured. But a big part of their vending machine legacy is their interchangeable canisters.
"We created a system of identical canisters that can be filled with a wide selection of candies and switched out in a matter of seconds," said Marsh. "The interchangeable canisters eliminate the messy and time-consuming process of refilling the machines with bags of candy. They also make it easy to track the profits for different products in each canister and to use that information to stock each machine with the most profitable product combination for any location."
More information about the vending machine innovations developed by Mike Burnett and Jeff Marsh, including a side-by-side comparison with the five most popular vending machines on the market, is available at http://www.1800vending.com/compare.html.
About 1-800-VENDING
Michael Burnett and Jeffrey Marsh came into vending in 1999. After working with all the most popular vending machines over the years, they knew every flaw and every benefit to each kind of machine. Armed with that information, they began a year-long process of designing, testing, and manufacturing their latest vending machine. Their company is one of the few vending machine manufacturers to have no complaints with the Better Business Bureau or any government office.
SEO press release and advertising by Xeal Precision Marketing
###