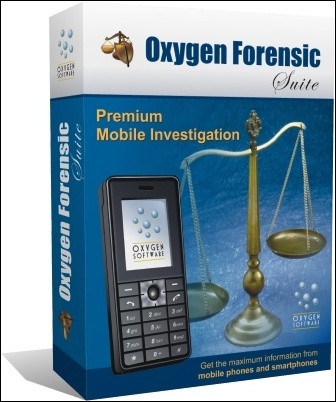 Oxygen Forensic Suite combines protection of the content of a phone or a smartphone against any interference with total data access and data export.
Moscow, Russia (PRWEB) April 19, 2007
Oxygen Software unveils new Oxygen Forensic Suite that enables total data extraction with guaranteed impossibility of data change during extraction and exporting process. This release builds on the success of the previous versions of the suite that were adopted by hundreds of police departments in over 20 countries of the world.
Oxygen Software, a company highly acclaimed for developing state of the art software for mobile phones, today announces the release of Oxygen Forensic Suite, a special, law enforcement agencies oriented version of the popular mobile phones communication software. Oxygen Forensic Suite includes all the features of Oxygen Phone Manager II and OPM II for Symbian OS smartphones concerning extraction of all possible information and settings from mobile phones and smartphones. At the same time Oxygen Forensic Suite has a unique difference from Oxygen Phone Manager II -- it prohibits any data change in the program or the phone itself. The program reads data from the phone, saves it to a file or exports it into any of the supported formats, but no data can be changed.
"Two years ago we had a request from one of OPM II users. He asked us if we could develop a version of OPM II that would make it impossible to change the phone content while extracting data. That was the beginning of Oxygen Phone Manager forensic versions, which we constantly developed and enriched with data export and reports functions. Now we present Oxygen Forensic Suite as a combination of several forensic versions for phones and smartphones," says Nikolai Golubev, a public relations manager at Oxygen Software. "Oxygen Forensic Suite combines protection of the content of a phone or a smartphone against any interference with total data access and data export." Today Oxygen Forensic Suite is a unique program that provides maximum data level extraction from phones and smartphones (including Brief Info, Phonebook, Call Register with incoming/outgoing and rejected phone calls, Calendar, SMS and MMS messages, Notes, To Do list, Dictaphone, Files, etc.). Oxygen Forensic Suite is the only existing program that lets you extract data from modern models of Symbian OS smartphones.
Oxygen Forensic Suite is an essential tool for Police Departments, Law Enforcement units and any government services that wish to use the power of Oxygen Phone Manager II for investigation purposes. The program offers user management control and password-protected access to extraction capabilities, ability to define custom user fields, choose the report output format: PDF, HTML, RTF, XLS, plain text or XML. Oxygen Forensic Suite secures phone data to remain unchanged during extraction and export.
Pricing and Availability
Oxygen Forensic Suite runs under Windows NT/2000/XP/Server 2003 and costs €499.95 (EUR). Registered customers are entitled to free technical support and one year of free updates to all new versions. Additional information on Oxygen Forensic Suite is available at http://www.oxygen-forensic.com/.
About Oxygen Software
Oxygen Software is a software development company, founded in 2001. It focuses on the software development for managing information, data and settings of mobile phones and smartphones. Oxygen Phone Manager, the headline product covers the majority of Nokia phones, Mobiado and Samsung phones and smartphones produced by BenQ, Motorola, Panasonic, Sendo, Siemens, Sony Ericsson, and Vodaphone. To software developers Oxygen Software offers various ActiveX Controls as well as components for Borland Delphi. For more information about the company and its product line, visit http://www.oxygensoftware.com/en/.
# # #